Lauren Lovatt's vegan Aubergine Moussaka
SERVES 2
PREP TIME 30 minutes
COOK TIME 30 minutes
TOTAL TIME 55 minutes
FEATURED IN RECIPE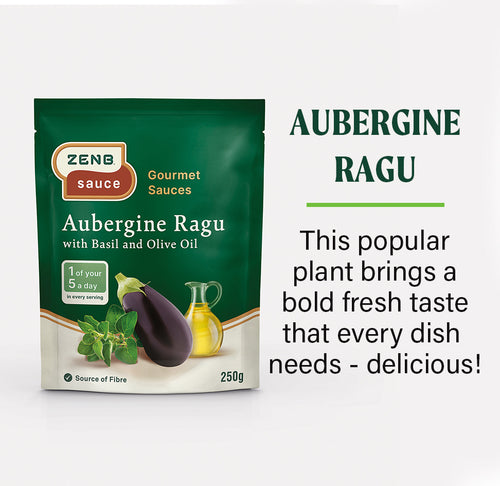 Aubergine Ragu
Ragus aren't just for your usual traditional Italian Sunday Dinner, We have partnered with Vegan Chef extraordinaire Lauren Lovatt to create a vegan aubergine moussaka is a plant-based version of the traditional Greek dish that typically includes meat, cheese, and eggs. Instead, a vegan moussaka recipe uses plant-based ingredients to achieve a similar texture and flavour profile.
In this delicious recipe created by vegan chef Lauren Lovatt, we have used the ZENB Aubergine Ragu Sauce blended with protein rich tempeh and earthy mushrooms, layered perfectly with grilled aubergine and potatoes, creating a harmonious blend of flavours and textures.
It's worth noting that this dish is entirely nut-free and comes with a delectable cheesy tahini sauce that adds a creamy touch to the already rich flavours of the sauce. To balance out the richness, serve it with some lightly wilted greens like spinach, cavolo nero, kale, or broccoli. Your taste buds and tummy will thank you!
INGREDIENTS
Ragu sauce
• 250g pouch ZENB Aubergine Ragu sauce
• 250g Tempeh
• 50g Mushrooms (button or shitake)
Mousakka
• 1 large Potato (washed and scrubbed)
• 1 Aubergine
• 3 tbsp Olive oil
• ½ tsp Salt
Tahini Cheese Sauce
• 75g Tahini
• 50g Water
• ½ tsp Turmeric
• ½ tsp chilli flakes
• ½ tsp freshly cracked black pepper
• ¼ tsp salt
INSTRUCTIONS
1.
Preheat the oven to 180°C.
2.
Finely slice the potato into rounds, making them about 2-4mm thick. Add them to a small saucepan with enough water to cover and simmer for 5 minutes until the potatoes are cooked through, take from the heat and steam off the water and then set aside.
3.
Slice the aubergine into 2-4 mm thick circles and add them to a bowl. Toss the aubergine with olive oil and salt and place the slices onto a baking tray lined with baking paper, bake for around 20 minutes or until cooked through and golden.
4.
Roughly chop the tempeh and then add it with the mushrooms to a food processor to create a rough crumb. Add this to a bowl with all the ZENB aubergine ragu sauce and mix thoroughly.
5.
Mix all of the tahini cheese ingredients together and set aside.
6.
Once the aubergines are cooked you can start to build the moussaka. In the meantime, turn up the oven to 200°C.
7.
You will need a deeper baking tray for this, at least 3 inches deep and about 20 x 20 cm. Start by adding a little olive oil to the button of the dishes and layer the potatoes on top. Add one layer of the ragu sauce, using half of the total mixture, and then add half of the aubergine. Add the rest of the ragu sauce and then the aubergine layered on top.
8.
Put the tahini cheese on top making sure it is an even layer and then place the baking tray into the oven and bake for 5 minutes until crisp.
9.
Serve with wilted greens and enjoy hot or cool completely, store in the fridge and then reheat in the oven over the next few days.
Tasty Tips
Prepare the dish ahead of time and enjoy throughout the week!