Hearty ZENB Penne with Pancetta & Tomatoes
SERVES 4
PREP TIME 5 minutes
COOK TIME 20 minutes
TOTAL TIME 25 minutes
NUTRITIONAL FACTS
Serving Size: 468.73g

Calories: 556
| | |
| --- | --- |
| Total Fat | 20g |
| Saturated Fat | 6.7g |
| Salt | 2.5mg |
| Carbohydrates | 56.1g |
| Fibre | 15g |
| Protein | 27g |
* Nutrition information is estimated based on the ingredients and cooking instructions as described in each recipe and is intended to be used for informational purposes only. Please note that nutrition details may vary based on methods of preparation, origin and freshness of ingredients used.
FEATURED IN RECIPE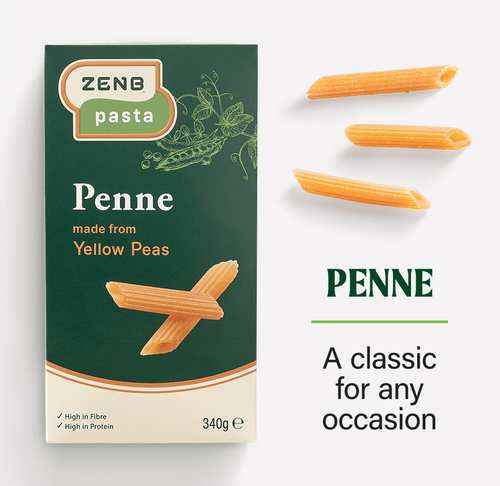 Penne Pasta
This chef-crafted recipe brings to life a flavourful version of a classic Italian pasta. Using ZENB Penne Pasta, this dish delivers a high source of fibre and protein. Taking only 25 minutes to make, this recipe combines convenience with elevated taste appeal.
INGREDIENTS
1 box (340g) ZENB Penne Pasta made from 100% Yellow Peas, uncooked
1 tablespoon olive oil
85g pancetta, cut into ½ inch cubes
1 small red onion, chopped
4 cloves garlic, sliced
1 tin crushed San Marzano tomatoes
1/2 teaspoon salt
1/4 teaspoon crushed red pepper flakes
30g grated Pecorino Romano cheese
1 teaspoon red wine vinegar
ground black pepper
INSTRUCTIONS
1.
Cook ZENB Pasta 2 min. less than directed on package. Reserve 1 cup pasta cooking water; drain.
2.
Meanwhile, heat oil, pancetta, onion and garlic in large skillet on medium heat. Cook 4-6 min., stirring occasionally until onions are translucent. Stir in reserved pasta water, tomatoes, salt and pepper flakes; bring mixture to a boil. Reduce heat to medium-low; cook 8-10 min. while scraping up the browned bits on bottom of pan until sauce is slightly thickened. Stir in pasta; cook 1-2 min. until pasta is tender.
3.
Remove pan from heat; add cheese and vinegar. Mix gently until cheese is melted and well combined. Garnish with freshly ground black pepper before serving.
Tasty Tips
For 2 servings, this recipe can easily be cut in half.  This dish is a flavourful version of classic Italian pasta all' Amatriciana. The Italian original utilizes guanciale, or salt-cured pork jowl, instead of pancetta. Pancetta is a cured, unsmoked pork belly. It is usually available near the specialty cheeses in the refrigerated deli section of the grocery store. Chopped bacon would be a great substitute for the pancetta.