Harissa & Merguez Bake with Parsley Chermoula
SERVES 4
PREP TIME 23 minutes
COOK TIME 20 minutes
TOTAL TIME 45 minutes
FEATURED IN RECIPE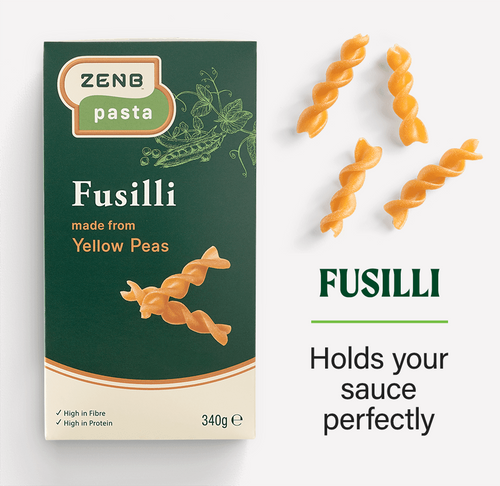 Fusilli Pasta
ZENB Fusilli is tossed in a rich and silky harissa, merguez, tomato, and cream sauce. The sourdough on top gives it a delicious crunch, and the parsley chermoula adds a pop of brightness to elevate the dish. A must try! Brought to you by a well-known recipe site, @twisted who transform traditional recipes into mouth-watering masterpieces!
INGREDIENTS
250g ZENB Fusilli
2 tsp olive oil
250g merguez sausage
1 tsp cumin seeds
1 onion, finely chopped
4 garlic cloves, finely sliced
2 x 400g whole plum tomatoes
30g harissa paste
½ tbsp honey
125ml cream
Salt and pepper to taste
For The Topping
200g torn fresh bread
1 tbsp olive oil
Salt and pepper to taste
100g fresh mozzarella cheese
For the chermoula
5 tsp olive oil
1 tsp cumin seeds, toasted
1 tsp coriander seeds, toasted
25g fresh coriander
25g fresh parsley
3 garlic cloves, peeled
2 tbsp lemon juice
½ tsp salt
INSTRUCTIONS
1.
Heat half the oil in a large pan and add the sausages. Cook until golden brown all over and cook through. Remove from the pan and slice into ½-inch pieces.
2.
In the same pan add the remaining oil and cumin seeds. Once aromatic, add the onions and cook until softened and lightly caramelized. Add the garlic and cook for 1 minute.
3.
Pour in the plum tomatoes and using a spoon break them apart. Add the harissa paste and honey and stir though. Bring to a simmer and cover. Cook for about 10 minutes or until the sauce thickens slightly. Pour and stir through the cream, then taste and season with salt and pepper as needed.
4.
Meanwhile, cook the ZENB Fusilli 2 minutes less than what is directed on the package. Toss the cooked Pasta and sliced sausages with the sauce to coat well and transfer to a baking dish.
5.
Preheat oven to 180ºC. Toss the fresh bread in olive oil and salt and pepper. Arrange on top of the Pasta with the bread and mozzarella cheese. Bake the Pasta for 20 minutes or until bubbling and golden brown on top.
6.
Blitz all of the chermoula ingredients in a blender. Serve the Pasta in bowls with a drizzle of the chermoula. Enjoy!
Tasty Tips
You can make the chermoula ahead of time to let the flavours get to know each other, and to get one step out of the way early!