Gizzi Erskine's Penne alla Vodka
SERVES 2
PREP TIME 5 minutes
COOK TIME 25 minutes
TOTAL TIME 30 minutes
FEATURED IN RECIPE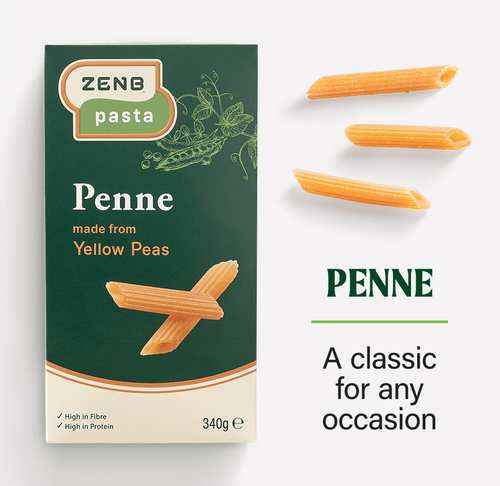 Penne Pasta
This glamorous yet uber simple recipe is perfect for those following a plant-based diet. The Vegan Vodka alla Penne offers a fresh take on one of Audrey Hepburn's favourite dishes and can be prepped and cooked in 30 minutes flat. Combining fresh, tangy tomatoes with a sizzle of vodka and lashings of smooth cashew cream, with the 100% Yellow Pea ZENB Penne it's a true vegan game changer.
INGREDIENTS
170g ZENB Penne
2 tbsp olive oil
8-12 cloves of garlic, thinly sliced
2-3 dried chillies, crushed/ 1 tsp dried chilli flakes
800g vine ripened tomatoes
1 tbsp red wine or sherry vinegar
130ml vodka
1 tsp salt
1 tsp sugar
2 tbsp nutritional yeast
200ml cashew cream
Leaves of a small bunch of basil
Sea salt
INSTRUCTIONS
1.
Heat the oil over a medium heat in a saucepan. Add the garlic and fry gently for 5 minutes until it softens and begins to tinge golden, being careful not to let it burn.
2.
Now add the chilli and fry for a few seconds. Next squeeze the tomatoes into the pan with your hands so that they rustically break down. Next add the vinegar, 100ml of vodka, sugar and salt. Stir and reduce for 20 minutes over a medium-low heat, stirring regularly, until the tomatoes have totally broken down and have become intense in flavour.
3.
At this stage transfer to a food processor, with the nutritional yeast and the cashew cream. Blitz until you have a smooth sauce.
4.
Return the sauce to the saucepan and bring it gently up to temperature. Check for seasoning, add another 30mls of vodka and the torn up basil.
5.
Cook the ZENB Penne according to the packets instructions, in heavily salted water. I prefer an al dente texture.
6.
Drain the pasta, reserving a splash of the pasta water. Add the pasta plus a little of the water to the sauce and stir until well combined.
Tasty Tips
Serve with a grinding of black pepper and a drizzle of extra virgin olive oil.