Giuseppe's Roasted Squash Spaghetti
SERVES 2
PREP TIME 5 minutes
COOK TIME 20 minutes
TOTAL TIME 25 minutes
FEATURED IN RECIPE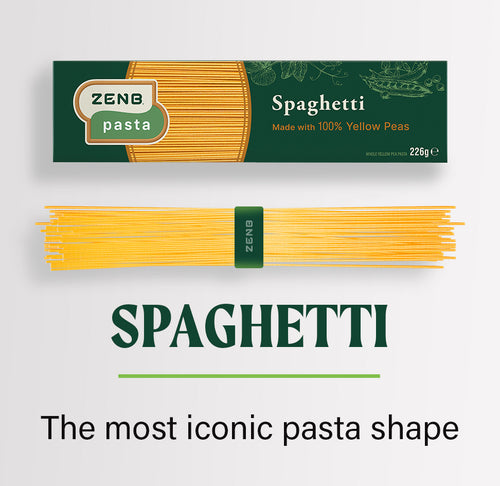 Spaghetti
This roasted squash spaghetti is a deliciously creamy dish that has a little spice and a lot of protein! No need for any plant-based creams, as this recipe uses soaked cashews to create a rich and decadent texture, and when combined with the soft roasted squash results in a light and creamy sauce. Plus, it's the perfect season for all kinds of squash, so get creative - this recipe also works well with pumpkin! Did I mention it's high in protein thanks to ZENB'S Gluten Free Spaghetti with 17g protein per serving #GAINS! Brought to you by Instagram star @sepps_eats
INGREDIENTS
1 pack of ZENB Spaghetti
1 medium butternut squash
small handful cashews
1 tbsp tahini
dash plant-based milk
1/2 tsp chilli flakes
fresh basil
olive oil
salt & pepper to taste
INSTRUCTIONS
1.
Slice the squash into small cubes, add the salt, pepper & oil and bake at 180°c until fork tender (~20 mins).
2.
Soak the cashews in hot water and set aside.
3.
Cook the ZENB Spaghetti according to instructions.
4.
Blend the squash with tahini, milk, chilli flakes, and soaked cashews (optionally add a dash of turmeric & smoked paprika for extra colour & flavour).
5.
Mix sauce into cooked pasta, top with some of the roasted squash (saved from earlier), black pepper, fresh basil, and enjoy!
Tasty Tips
Double check the consistency of the pasta a minute before removing from the pan to ensure it's not overcooking. If cooked to al dente, remove before the time is finished.