Food Fitness Flora's 'Nothing in the Fridge' Penne Dish
SERVES 2
PREP TIME 5 minutes
COOK TIME 15 minutes
TOTAL TIME 20 minutes
FEATURED IN RECIPE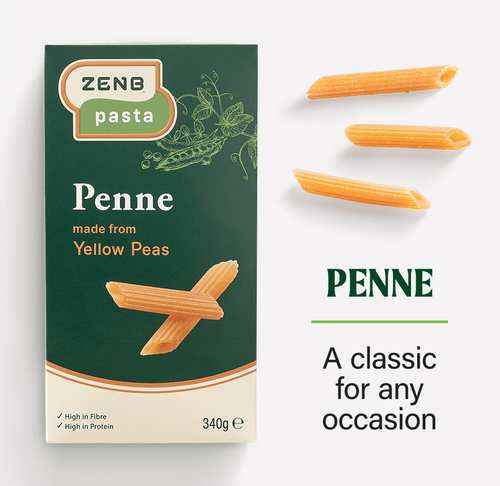 Penne Pasta
Flora Beverly shows us how she prepares the perfect post-run meal with her 'Nothing in the fridge' Penne dish, featuring the ZENB Yellow Pea Penne.
INGREDIENTS
250g ZENB penne pasta
1 white onion
1 red onion
3 cloves garlic
1 lump frozen spinach, or handful fresh spinach
400g Veggie mince
Capers
Olive oil
Vegan cheese
Soy sauce
Pepper to taste
INSTRUCTIONS
1.
Preheat the pan with a dash of vegetable oil.
2.
Dice the onions and garlic and add to hot pan.
3.
Fry until browning, then add the veggie mince (defrost first if frozen).
4.
Boil a pan of water and add the pasta. Cook for 10 minutes for al dente texture or 12 for softer.
5.
Once the mince is browning, add the spinach and mix in.
6.
Add a dash of soy sauce for umami flavour and the capers.
7.
Continue cooking on a low heat until the pasta is fully cooked.
8.
Once cooked, drain the pasta and then place it back in the saucepan with some olive oil to prevent sticking.
9.
Mix the mince through the pasta ensuring everything is combined.
Tasty Tips
When ready to serve sprinkle the dish with plenty of vegan cheese and black pepper to give it an extra kick!