Easy ZENB Gazpacho
SERVES 4
PREP TIME 30 minutes
COOK TIME 30 minutes
TOTAL TIME 60 minutes
FEATURED IN RECIPE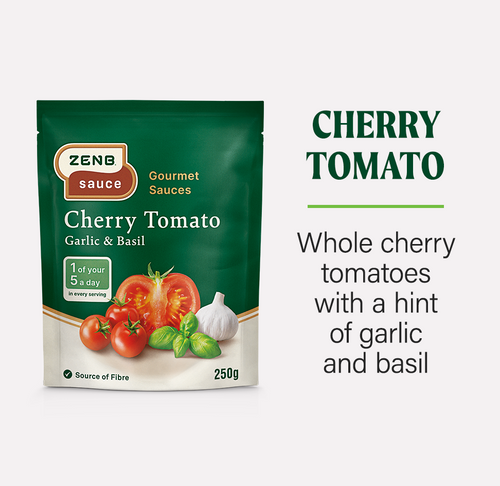 Cherry Tomato Gourmet Pasta Sauce
Enjoy this simple preparation ZENB Gazpacho recipe using ZENB Roasted Tomato, Garlic, & Basil Pasta Sauce. This recipe provides a good source of fibre, potassium, vitamin A, and an excellent source of vitamin C. Perfect as a meal prep or to feed your family, this recipe is great to add to your cooking repertoire.
INGREDIENTS
• ZENB Roasted Tomato, Garlic & Basil Pasta Sauce (250g)
• 2 cloves garlic, coarsely chopped
• 1/2 small, sweet onion, quartered
• 1 seedless cucumber, peeled, quartered
• 1 small red bell pepper, seeded, quartered
• 1/3 cup loosely packed fresh basil leaves, divided
• 1 tablespoon red wine vinegar
• 1/4 cup water
• 1/2 teaspoon each kosher salt & ground black pepper
• 4 plum tomatoes, seeded, finely chopped
• 2 teaspoons olive oil
INSTRUCTIONS
1.
Add ZENB Sauce, garlic, onion, cucumber, bell pepper, 1/4 cup basil, vinegar, water, salt & pepper to blender jar. Blend 1 min., or until completely smooth.
2.
Add tomatoes. Pulse just until mixed in. Refrigerate sauce mixture in covered container for 30 minutes or until chilled.
3.
Garnish with remaining basil leaves and drizzle with olive oil before serving.
Tasty Tips
Store covered and refrigerated for up to 3 days.