Easy Italian Bake
SERVES 4
PREP TIME 5 minutes
COOK TIME 25 minutes
TOTAL TIME 30 minutes
FEATURED IN RECIPE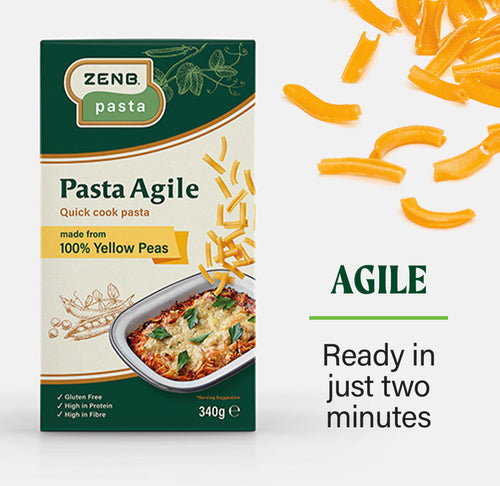 Quick Cook Pasta Agile
ZENB Pasta Agile bakes up nice with bubbly cheese in Easy Italian Bake. In 30 minutes, you can have a hearty meal that is an excellent source of protein.
INGREDIENTS
1 tablespoon olive oil
1 onion, chopped
2 cloves garlic, minced
1/2 teaspoon Italian seasoning
1/2 teaspoon each kosher salt & ground black pepper
1 pound lean ground turkey
1 (700ml) marinara sauce
2-2/3 cups (230g) ZENB Pasta Agile
1/4 cup grated Parmesan cheese
1/2 cup chopped fresh basil, divided
1-1/2 cups shredded mozzarella cheese
INSTRUCTIONS
1.
Preheat oven to 200C/400°F. Heat oil in large skillet on medium heat. Add onions, garlic, seasoning, salt & pepper. Cook 3-4 minutes until softened. Add meat; cook 4 minutes, stirring frequently, until done.
2.
Stir in sauce, ZENB Pasta Agile, Parmesan and half the basil. Cook 1 minute or until heated through. Spoon mixture into13x9-inch baking dish. Sprinkle with mozzarella. Cover tightly with foil.
3.
Bake 15 minutes, until cheese is melted and pasta is tender. Sprinkle with remaining basil before serving.
Tasty Tips
Using lean ground meat eliminates the need for a draining step in this recipe, keeping cook time and dishes to a minimum.
Substitute plant-based protein for the turkey to make a vegetarian dish.