Easy Beef Tenderloin, Broccoli, & ZENB Fusilli Stir-Fry
SERVES 2
PREP TIME 5 minutes
COOK TIME 10 minutes
TOTAL TIME 15 minutes
NUTRITIONAL FACTS
Serving Size: 465.73g

Calories: 564
| | |
| --- | --- |
| Total Fat | 15g |
| Saturated Fat | 3.3g |
| Salt | 1.9mg |
| Carbohydrates | 51g |
| Fibre | 13g |
| Protein | 44g |
* Nutrition information is estimated based on the ingredients and cooking instructions as described in each recipe and is intended to be used for informational purposes only. Please note that nutrition details may vary based on methods of preparation, origin and freshness of ingredients used.
FEATURED IN RECIPE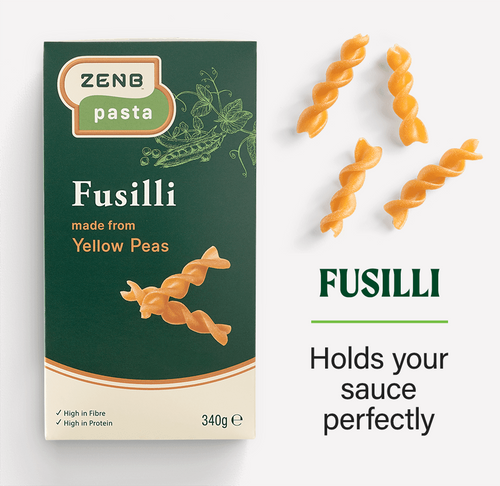 Fusilli Pasta
This stir-fry recipe combines the delicious flavours of ZENB Fusilli Pasta, beef tenderloin, and broccoli, in what is sure to become your new go-to dish. The best part? This recipe delivers a high source of protein, and fibre. Enjoy a stir-fry that ensures crisp and tender veggies and perfectly seared beef.
INGREDIENTS
170g ZENB Fusilli Pasta made from 100% Yellow Peas, uncooked
350g small broccoli florets
2 teaspoons avocado oil
1/2 teaspoon toasted sesame oil
226g beef tenderloin, cut into 1/2-inch thick strips
120ml unsalted chicken stock
2 tablespoons Chinese oyster sauce
1/2 teaspoon Sriracha sauce
1 teaspoon brown or granulated sugar
1 small lime, cut into wedges
INSTRUCTIONS
1.
Cook ZENB Pasta as directed on package, adding broccoli to the boiling water during the last 3 minutes. Drain.
2.
Meanwhile, heat oils in large skillet on medium-high heat until shimmering. Add beef to skillet in single layer. Cook, undisturbed, 2-3 min. or until browned. Stir; cook 1 min. or until outer surfaces are no longer pink. Transfer meat to clean plate. 
3.
Add stock, oyster sauce, Sriracha and sugar to same skillet. Cook 1-2 min. until simmering. Stir in pasta, broccoli, beef and any juices to skillet on medium heat. Cook 1-2 min.; mix gently to combine. Serve with lime wedges.
Tasty Tips
The key to a successful stir-fry is to use high heat to quickly cook meats and vegetables in stages without overcrowding the pan. This ensures that veggies stay crisp-tender, and meats develop a sear instead of steaming.
Avocado oil has one of the highest smoke points, making it a great choice for high-heat cooking.
Oyster sauce is usually sold in bottles in the Asian section of the grocery store. Substitute 2 tablespoons hoisin sauce for the oyster sauce.