Curried Coconut Noodles
SERVES 2
PREP TIME 10 minutes
COOK TIME 15 minutes
TOTAL TIME 25 minutes
FEATURED IN RECIPE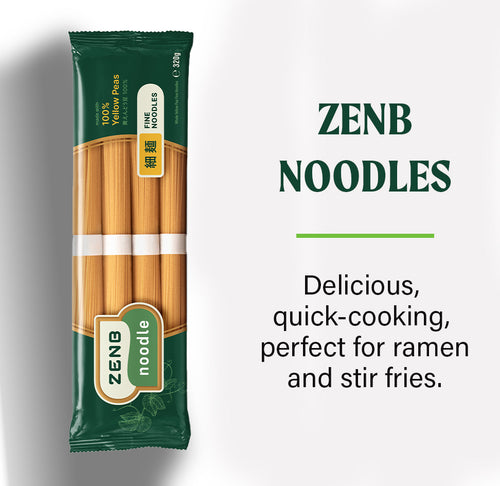 Noodles
Get a Bali - glow on with our protein packed noodles perfectly paired with this creamy and lightly spiced curried sauce to make the simplest showstopper dish!
Inspired by chef Lauren Lovatt and her recent trip to bali, this dish is loaded with aromatic herbs and filled with coconut to make a Moorish sauce, these curried coconut noodles are a crowd pleaser perfect for a mid-week meal or dinner with friends.
Jam packed full of seasonal veggies this dish will not only leave your satisfied but feeling great!
INGREDIENTS
1 bunch ZENB Noodles
1 tbsp coconut oil
1 red onion, peeled and sliced into thin slices
½ tsp salt (i love to use smoked salt here)
4 button mushrooms
200g cauliflower
1 tbsp curry powder
1 tbsp tomato puree
1 inch ginger, grated
2 cloves garlic, peeled and crushed
1 400g tin coconut milk
10 cherry tomatoes
200g broccoli
50g spinach, washed
1 carrot, peeled and peeled into ribbons
1 courgette peeled into ribbons
Optional - coriander / Thai basil / chilli flakes / one lime
INSTRUCTIONS
1.
Warm a large wok or deep-frying pan on a medium heat and add the coconut oil.
Once hot, add the onion and salt and cook for five minutes until cooked through.
2.
Add the mushrooms and cauliflower and cook for 3-4 minutes until they have a bit of colour and then add the curry powder and cook through combining with the vegetables for another minute then add the tomato puree and cook for 30 seconds.
3.
Add the coconut milk, fresh tomatoes, garlic and ginger and cook for five minutes.
4.
Add the broccoli, carrot, spinach and courgette and cook for a further five minutes.
5.
In a saucepan filled with boiling water, cook the ZENB noodles as per the packet instructions and, once cooked, drain them and rinse with cool water.
6.
Add the noodles to the bubbling curry and gently mix, you may need to add a splash of water if the sauce has thickened up too much, see the picture for a reference.
7.
Serve hot topped with herbs, lime and or toasted coconut.
Tasty Tips
Top your curry with toasted coconut, a spoonful of coconut yoghurt and lots of herbs for the ultimate experience