Creamy Butternut Squash Pasta Bake
SERVES 6
PREP TIME 10 minutes
COOK TIME 60 minutes
TOTAL TIME 70 minutes
FEATURED IN RECIPE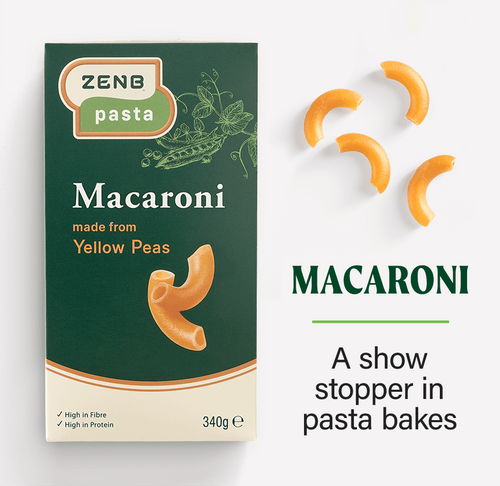 Macaroni Pasta
A creamy pasta dish that is packed with vegetables whilst also being high in protein thanks to the yellow pea pasta and silken tofu. This is one pasta dish that is not only comforting, but will leave you satisfied for hours. Created by @Fortheutterloveoffood
INGREDIENTS
Creamy Sauce Ingredients
1 Butternut squash, peeled, deseeded, and chopped into 2cm pieces
2 Carrots, peeled and cut into 2cm pieces
2 Red bell peppers, cut into 2cm pieces
1.5 tbsp Olive oil
2 Garlic cloves, minced
1 Red onion, diced
2 tbsp Tomato puree
300g Silken tofu
250ml Milk of choice
1 heaped tsp Crushed chilli flakes
½ tbsp Maple syrup
15g Nutritional yeast
1 tsp each of Cumin, paprika and garlic granules
Large pinch of sea salt
Large handful of spinach
Herb Crumb Ingredients
4 Slices of stale bread, toasted and blended to breadcrumbs
60g Dairy free cheese, grated
6 tbsp Fresh herbs
INSTRUCTIONS
1.
Preheat an oven to 200oc.
2.
Place the squash, carrots, and bell pepper on a non – stick baking tray, drizzle with 1 tbsp of olive oil, season with salt and pepper. Roast for 50 minutes turning halfway, until golden and caramelised at the edges.
3.
Whilst the veg is roasting, heat the remaining olive oil in a frying pan over a medium – high heat. Add the red onion and garlic, cook until softened. Then go in with the tomato paste, stir through for a few minutes and set aside.
4.
Once the veg is roasted, add to a blender with the remaining sauce ingredients (except the spinach). Blend until you get a smooth sauce.
5.
Add the blended sauce and spinach to the frying pan with the onion and garlic. Stir until heated through, the spinach has wilted, and all ingredients are combined.
6.
Cook your ZENB macaroni according to packet instructions until it is aldente and stir into the sauce.
7.
Transfer your creamy pasta to an oven proof dish. Combine all the breadcrumb ingredients together in a separate bowl and sprinkle over the top of the pasta.
8.
Grill on a high heat until the crumb turns golden, and the cheese has started to melt. Serve whilst still hot.
Tasty Tips
Try with alternative cheeses if you wish!