Creamy Avocado Fusilli
SERVES 4
PREP TIME 5 minutes
COOK TIME 10 minutes
TOTAL TIME 15 minutes
FEATURED IN RECIPE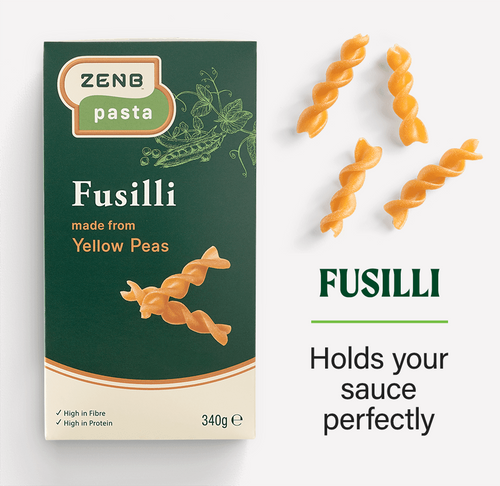 Fusilli Pasta
A super creamy avocado pasta recipe that's healthy, satisfying and ready in just 15 minutes. Thanks to the addition of broccoli, this simple avocado pasta recipe is a nice vibrant green so not only is it packed full of health benefits, you feel good even looking at it… but I recommend you eat it too! If you're craving pasta but want to feel good after eating it, using ZENB's Yellow Pea Pasta is a great gluten free alternative. The fresh, super creamy avocado pasta sauce clings, and nuzzles its way, into every delicious pasta tube. Oh yessss! Kids love it too so it's the perfect quick weeknight dinner the whole family will enjoy.
What's special about creamy avocado pasta?
This creamy avocado pasta recipe is special because not only is it absolutely delicious - did I mention creamy? and cheesy? - it's vegan friendly meaning it's perfect for those of you looking to reduce your meat intake. Whether you follow a strict vegan diet, are flexitarian or simply looking for a healthier pasta recipe for dinner, you won't be disappointed with this easy vegan dinner. By adding broccoli, or kale or cavolo nero if you prefer (though broccoli is my favourite) this simple avocado pasta recipe packs in extra nutrients and vitamins. The texture from the walnuts adds a lovely crunch against the creamy avocado too.
INGREDIENTS
340g ZENB Fusilli Pasta
1.5 tightly packed cups broccoli florets, chopped into 1.4cm pieces (140g), or 1.5 cups loosely packed kale
1/2 cup lightly packed basil leaves (30g)
1 garlic clove, roughly chopped
30g walnuts
1 tbsp extra virgin olive oil
1/4 tsp flaked sea salt
¼ tsp cracked balck pepper
1 large avocado, cubed 130g
1 tbsp lemon or lime juice
3 tbsp nutritional yeast
1 - 2 tbsp water
1 tsp Lemon zest
Pinch of chilli flakes (optional)
INSTRUCTIONS
1.
Add a little boiling water to a large pan and bring to the boil. Add the broccoli and steam in a steamer for 5 minutes on a medium heat, or until al-dente. Option to boil (no steamer) if you prefer.
2.
Once cooked, place the broccoli in a bowl of iced water to stop the cooking process and keep it nice and green. Drain and pat dry with kitchen roll.
3.
Add the ZENB Fusilli Pasta to a pan of salted boiling water and cook as per the instructions, about 9 - 10 minutes. Drain.
4.
In a food processor, add the broccoli, basil, garlic, walnuts, olive oil, salt, pepper, avocado, lemon juice, nutritional yeast and 1 tbsp of water and blend until super smooth, about 1 - 2 minutes. If too thick add a little more water. The consistency will depend on the size of your avocado and how thick you like your sauce.
5.
Stir the creamy avocado sauce through the pasta until fully coated. Option to warm through in the pan. To serve, top with optional extra walnuts, lemon zest and optional chilli flakes , torn basil, cracked black pepper and olive oil.
Tasty Tips
This creamy avocado pasta recipe is already packed with flavour and has a cheesy feel thanks to the nutritional yeast but feel free to add some vegan or regular grated parmesan on top too or replace the nutritional yeast with parmesan.
For a nut free alternative, substitute the walnuts for sunflower or pumpkin seeds.
For an extra flavour boost you can roast the nuts first (200C / 180 fan for about 4 - 6 minutes or toast in a dry pan until golden, then allow to fully cool before blending.)
How is creamy avocado pasta served?
You can serve this vegetarian avocado pasta hot or cold, for lunch or dinner. It's great warm, straight from the pan, for a quick meat free dinner or can be packed up in a Tupperware and enjoyed warm or cold the next day.
To reheat, simply warm in a pan on the hob for 1 - 2 minutes (you may like to add a little water too so it's nice and gooey) or reheat in the microwave.
Suitable alternatives if you can't find some ingredients
If you can't find walnuts you can substitute with other nuts. Brazil nuts and almonds are some of my favourites. For a nut free sauce, feel free to use pumpkin or sunflower seeds.
You can replace the broccoli with kale, if you prefer. It's a little earthier and doesn't need cooking. Just massage in a little olive oil and blitz from raw. Use roughly 1.5 loosely packed cups. You may need more oil with this as opposed to broccoli which holds more water so adjust accordingly.
A lime can also replace the lemon.
Creamy avocado pasta variations
For meat eaters - if you love to add a little healthy meat protein to your pasta, this simple avocado pasta recipe also pairs well with leftover roast chicken, cooked up chicken breasts of thighs, crispy bacon or salami style charcuterie meats like parma ham.
For vegetarians - if you'd prefer to add some cheese for a vegetarian alternative, simply replace the nutritional yeast with parmesan or add a sprinkling of parmesan as well to the top before serving.
For vegans - this creamy avocado pasta is already vegan and uses nutritional yeast for a wholefoods cheesy taste. Feel free to add some vegan parmesan to serve if you prefer or substitute the nutritional yeast for vegan parmesan.
What other pasta shapes go well with creamy avocado pasta?
The great thing about this simple avocado pasta recipe is that it works with any kind of pasta. ZENB's Penne and Macaroni also work well with it, so you can mix it up depending on your mood!
What to eat with creamy avocado pasta?
Creamy avocado pasta can be served as a main evening meal or a lighter lunch. As pasta can be quite filling, I like to serve this with a crisp salad. A simple rocket and tomato salad with red onion and an olive oil, balsamic dressing is nice.
For meat eaters - If you'd like to add some healthy meat to your avocado pasta, I'd recommend some roast chicken (breast of thighs are both good) or some deli style charcuterie meats (raw or crisped up in the oven is amazing with it) and a nice fresh salad. A slice of sourdough is also nice dipped in olive oil and balsamic.
For vegetarians - Serve with a nice fresh salad. Watercress with cherry tomatoes, feta, cucumber, olives and red onion in a red wine vinegar, olive oil dressing works well.
For vegans - if you're looking for less meat, serving this vegan creamy pasta with a fresh salad with some roasted veggies in it is a great way to get lots of plant based goodness into your dinner. Feel free to add a slice of your favourite bread to mop up all the lovely avocado sauce too.
For gluten free - to add balance to this avocado pasta, it's nice to serve this with your favourite green salad and of course, you can add a slice of gluten free bread (I like it toasted) and brushed in olive oil to scrape up every last bit of the delicious sauce!
What to drink with creamy avocado pasta?
If serving this creamy avocado pasta for dinner, a nice dry accompaniment is a glass of sparkling water with a slice of lime or why not open a bottle of your favourite red or pink fizz and share with friends and family? Well you've got lots of health points from the dinner and you only live once I say!
When to best enjoy creamy avocado pasta?
This avocado pasta recipe is an all-year-round favourite. Avocados are easy to get hold of any time of the year, as are the rest of the ingredients in this easy avocado pasta recipe so you shouldn't have trouble getting hold of them.
Serve as a lighter lunch or a more filling dinner. It's an all round winner!
How to store creamy avocado pasta
Store in the fridge in a Tupperware for up to 2 days or in the freezer for 2 months.
How long does creamy avocado pasta last in the fridge?
Best enjoyed fresh but can be stored in the fridge in a sealed Tupperware for up to 2 days
Can creamy avocado pasta be frozen?
Yes, this avocado can be frozen for up to 2 months.
Can creamy avocado pasta be reheated?
Sure can! To reheat, simply add to a pan (maybe with a little more water to loosen it up) or microwave in a heat-proof glass bowl.
Is this recipe suitable for kids?
Kids love this avocado pasta. It's a great way to sneak in veggies without them noticing. If you add cheese too, I find it's always a winner. You can always add some corn too and substitute the nuts if there's any nut allergies in your house.