Courgette and Ricotta ZENB Penne Pasta
SERVES 4
PREP TIME 5 minutes
COOK TIME 15 minutes
TOTAL TIME 20 minutes
NUTRITIONAL FACTS
Serving Size: 337g

Calories: 453
| | |
| --- | --- |
| Total Fat | 14g |
| Saturated Fat | 4.1g |
| Salt | 1mg |
| Carbohydrates | 47g |
| Fibre | 12g |
| Protein | 25g |
* Nutrition information is estimated based on the ingredients and cooking instructions as described in each recipe and is intended to be used for informational purposes only. Please note that nutrition details may vary based on methods of preparation, origin and freshness of ingredients used.
FEATURED IN RECIPE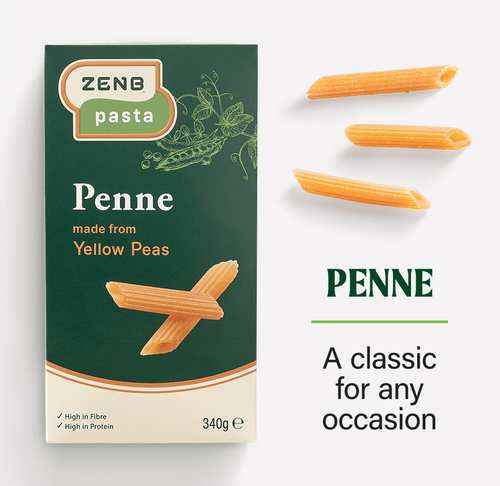 Penne Pasta
Cook up this low calorie, low fat recipe and enjoy the delicious combination of ZENB Penne Pasta, courgette and ricotta. Taking just 20 minutes to make, this dish is great to cook up on a weeknight after you have stocked up on your ZENB Pasta.
INGREDIENTS
• 1 box (340g) ZENB Penne Pasta made from 100% Yellow Peas, uncooked
• 2 tablespoons extra-virgin olive oil
• 3 medium courgettes halved lengthwise, cut into ½-inch thick slices
• 1/2 teaspoon salt
• 1 small lemon, zested, juiced
• 248g part-skim ricotta cheese, divided
• 100g chopped Italian parsley, divided
INSTRUCTIONS
1.
Cook ZENB Pasta as directed on package. Reserve 125ml pasta cooking water; drain.
2.
Meanwhile, heat olive oil in large skillet on medium heat. Add zucchini slices and salt; cook 12-15 min. until tender. Add pasta, reserved pasta water, lemon juice, ½ cup ricotta cheese and parsley. Mix gently until well combined.
3.
Garnish with lemon zest and small dollops of remaining ricotta cheese before serving.
Tasty Tips
Other tender herbs like chives or mint would make great substitutes for the parsley.