Cod en Papillote
SERVES 2
PREP TIME 10 minutes
COOK TIME 45 minutes
TOTAL TIME 55 minutes
FEATURED IN RECIPE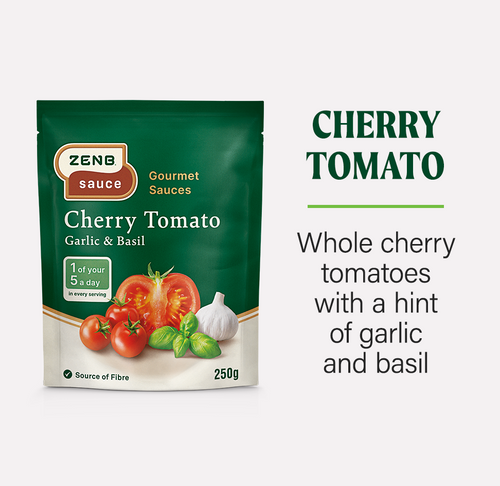 Cherry Tomato Gourmet Pasta Sauce
Fresh and flaky cod fillets, gently steamed in baking paper with fresh on the vine tomatoes and ZENB Tomato, Garlic and Basil Sauce. Served alongside, crispy garlic potatoes and fresh basil leaves, then finished with a zesty squeeze of fresh lemon to cut through the rich tomato sauce.
Brought to you by @emmafosterfood
INGREDIENTS
2 Large cod fillets
4tbs Cherry Tomato, Garlic and Basil ZENB sauce
100g Cherry Tomatoes on the vine
6 Basil Leaves
1 Large Potato
5 Cloves Garlic
2tbs Olive Oil
½ Lemon
Salt & Pepper to season
Serve with salad or watercress
INSTRUCTIONS
1.
Preheat the oven to 180c.
2.
Slice the potatoes into bitesize pieces. Place in a pan of cold water and season with a pinch of salt. Then boil for 10 minutes, or until soft. Drain the potatoes and add to a baking tray with 2tbs of olive oil and 5 crushed garlic cloves. Place into the oven to cook for 35 minutes.
3.
Now, onto the cod.
Grab your greaseproof paper roll and cut two large pieces. It needs to be large enough to wrap around the cod leaving room for the steam. You're essentially making a bag.
4.
Lay the greaseproof paper pieces out and add a row of cherry tomatoes on the vine to the centre of each one, then gently lay the cod fillets onto the tomatoes. Spoon on two tablespoons of the sauce to each fillet. Add a couple of slices of lemon and a basil leaf, then wrap gently.
5.
Place the parcels onto a baking tray and bake in the oven for 25 minutes.
6.
Remove from the oven and begin to plate up. Add the potatoes to a plate and carefully open the cod parcel, remember it is a bag of steam! Using a fish slice, transfer the cod and tomatoes onto the plate. Add a squeeze of lemon and some fresh basil leaves and enjoy.
Tasty Tips
WRAPPING TIPS - With the cod in the centre, bring the two longest ends together over the cod and fold down a couple of times. Then turn the cod around and almost wrap it like a present. Bring in both corners into triangles and then fold over the open piece. Repeat on the other side until the cod is wrapped nicely without gaps. The idea is that the cod steams in the paper
If you're in a hurry. You can cut the mealtime down to less than 30 minutes. Simply use tasty new potatoes or have it with a delicious salad.