Christmas Pasta
SERVES 6
PREP TIME 20 minutes
COOK TIME 60 minutes
TOTAL TIME 100 minutes
FEATURED IN RECIPE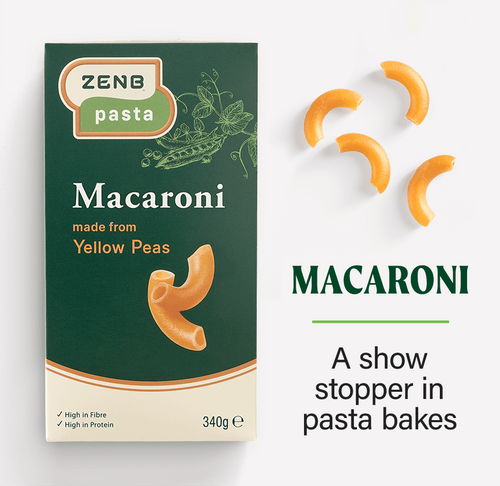 Macaroni Pasta
A fun and innovative pasta twist on the classic Christmas Dinner. This Christmas pasta recipe combines all the quintessential flavour's of a Xmas dinner but uses the ZENB high protein yellow pea Macaroni instead of a traditional roast dinner. Make all the components ahead of time and then combine to create a Christmas vegetarian pasta idea that is a taste sensation and ideal for feeding a crowd. Reciepe created by @Fortheutterloveoffood
What is Christmas Pasta?
The definition of Christmas pasta is somewhat subjective, but for us it is all about packing in those festive flavours and colours. Combined with a recipe that is easily scalable so you can feed those extra mouths without toiling away in the kitchen for hours on end or can be stored / frozen or reheated easily for those all-important leftovers.
Why is it called Christmas Pasta?
This pasta Christmas dinner gets its name because of the bright red from the caramelised cranberries and the traditional green from the crispy brussel sprouts, which are colours that we all associate with the festive period.
The base of the recipe uses the ZENB yellow pea Macaroni and is combined in a rich mushroom gravy before being layered with stuffing balls, cranberries and sprouts to deliver on all those quintessential Xmas flavours.
What do Italians eat for Christmas?
What Italians choose to eat over Christmas not only varies by region (north, south and central) but also by village with specialties that are unique to each.
One thing that is typical though is that Italians generally forgo meat on Christmas Eve dinner in favor of a rich fish-based banquet, sometimes known as the 'Feast of the Seven Fishes'.
The other inevitable element is the usage of pasta throughout the Christmas period. The type of pasta and what it includes though is the part that varies significantly.
For instance, Piedmont is very well known for 'Agnolotti del Plin' which is a type of filled pasta that usually includes Fontina cheese as well as whatever other leftover ingredients might be to hand at the time. In Emilia-Romagna, it's common to eat "Tortellini in brodo" for Christmas.
Whereas in the South of Italy, it's more common to see families eat baked pasta, 'Pasta al Forno' , where a rich bechamel sauce is combined with whatever is handy to create a gooey and impossibly rich indulgent pasta.
INGREDIENTS
Mushroom Gravy
1 tbsp Olive oil
1 Red onion, diced
300g Chestnut mushrooms, sliced
2 Garlic cloves, minced
300ml vegetable stock
½ tsp Dried rosemary
½ tsp Dried thyme
1 1/2 tbsp Tamari
2 tbsp Corn flour
1 tbsp Raw cacao
Salt and pepper to taste
Crispy Brussel Sprouts
500g Brussel sprouts, cut in half
2 tbsp Olive oil
2 Garlic cloves, minced
30g Panko breadcrumbs
Salt and pepper to taste
Caramelised Cranberries
150g Fresh cranberries
1 tbsp Maple syrup
1 tbsp Fresh orange juice
½ tbsp Light brown muscovado sugar
Pinch of sea salt
Sage and Onion Stuffing Balls
170g Sage and onion stuffing mix
INSTRUCTIONS
1.
To make the mushroom gravy
In a medium non – stick pan sauté the onion over a medium heat for 5 – 10 minutes until starting to soften. Add the mushrooms and continue to cook for another 10 minutes until the extra water from the mushrooms has evaporated
Add the vegetable stock, dried herbs, raw cacao and tamari. Stir to combine. Whisk in the corn flour to avoid any lumps forming and simmer for 10 minutes until thickened.
Season with salt & pepper to taste, keeping warm on the stove top until the rest of the elements are ready.
2.
To make the crispy brussel sprouts
Preheat an oven to 200oc.
Place the brussel sprouts in a large bowl (removing any rough outer leaves or thick stems) and toss with the olive oil.
Add the remaining ingredients and combine.
Transfer to a large non – stick baking sheet ensuring each of the sprouts is face down.
Roast for 20 minutes before turning them halfway and cooking for a remaining 10 minutes.
Serve immediately whilst still warm, scraping any leftover breadcrumbs from the tray.
3.
To make the stuffing
Prepare the stuffing according to packet instructions.
Form into 24 mini stuffing balls and bake in a preheated oven.
4.
To make the caramelised cranberries
Add all the ingredients to a small – medium sized pan and simmer for 10 – 15 minutes until the cranberries start to break down.
Remove from the heat and allow to cool.
5.
To assemble
Cook your ZENB Macaroni according to packet instructions and drain.
To serve, stir through the mushroom gravy, and top with the crispy brussel sprouts, stuffing balls, caramelised cranberries and any leftover crispy breadcrumbs.
Tasty Tips
If you are looking to go that extra mile and make this dish extra special, why not try the following:
Prepare some rosemary roasted potatoes to serve alongside the pasta which are perfect for dunking in the leftover caramelised cranberries and mushroom gravy.
If you aren't following a vegan or vegetarian diet, try adding 50g of Parmesan into the mix when roasting your brussel sprouts. Before topping the pasta dish with any remaining cheesy breadcrumbs.
Add some vegan or traditional sausage meat in with your stuffing to create stuffing balls that are just a little bit more special.
How is this meal served?
This Christmas vegetarian pasta idea is best served when enjoyed with family and friends over the festive period.
Ideally this Christmas dinner pasta should be served as soon as the ingredients are ready, piping hot and combined. However, if this isn't possible see below for recommendations on storage, reheating etc.
Suitable alternatives if you can't find some ingredients
Mushrooms: whilst this recipe calls for the use of Chestnut mushrooms, closed cup, button or Portobello mushrooms will also work well if that is what you have available. They will just make the sauce look slightly different because of the way they would have been cut / size of the mushroom overall.
Stuffing: we have kept the flavours traditional with the stuffing, opting for sage and onion. However, feel free to select a different flavour if this is what you have available.
Pasta: this recipe uses the ZENB Macaroni as it holds the sauce well and the yellow peas ensure it is also high in protein. However, see below for other pasta recommendations if you don't have this available.
Herbs: the recipe uses dried herbs as we have found these are more readily available in most people's homes. However, these can be swapped for fresh herbs if you have them to hand.
Tamari: this can be swapped for soy sauce if the guests you are feeding are not gluten free or coeliac. Tamari and soy sauce, whilst interchangeable in terms of flavour are not when it comes to avoiding the use of gluten.
Christmas pasta variations
Whilst we recommend following the recipe for the best tasting dish, below are a few variations if you have a specific dietary preference or simply find yourself wanting to elaborate on the dish a little more
Gluten free: if you are following a gluten free diet or are coeliac, please select a stuffing mix that is appropriate. This can be either one that is shop bought like the version we have included, or you could try making your own variety and getting creative with the flavours, possibly even adding in some sausage meat.
Meat lovers: if you are looking to add a meat fix to this Christmas pasta dish, try topping the pasta with some roasted turkey, sliced gammon or even include some leftover pigs in blankets. As long as it is part of a traditional Christmas dinner it will go well with the flavours of the rest of the dish.
What other pasta shapes are best with this recipe?
Whilst this recipe uses the ZENB yellow pea Macaroni, any other pasta shape that is akin to being combined with sauce will work.
Pasta shapes like ZENB's penne would be a good alternative and still deliver that high protein content that keeps this vegan meal balanced.
Otherwise, you could try large pasta shells or paccheri which would hold the sauce nicely knowing that ZENB is working to expand its range of pastas soon.
What to eat with this recipe?
The beauty of this Christmas pasta idea is it's versatility to be paired with a number of other accompanying dishes, all of which can be adapted to suit various dietary restrictions.
Meat – eaters: start the meal with a charcuterie board made up Italy's finest meats and cheeses. Before serving the pasta alongside a crunchy green salad with crispy pancetta and curls of Pecorino cheese.
Vegetarians: forgo the meat on your anti – pasti board to start but go large on the cheese selection including a range of soft, hard, and blue cheeses alongside freshly baked Italian breads. Serve the Christmas pasta recipe with roasted tender stem broccoli tossed with hazelnuts and lemon zest to cut through the richness of the pasta and the previous course.
Vegans: just because there is no meat, fish or dairy, doesn't mean you need to miss out. Start with a cheese board made up of the many varieties of vegan cheeses that are available now. Serve alongside colourful olives, Italian breads and the finest extra virgin olive oil and balsamic vinegar for dipping.
Gluten free: accompany this Christmas dinner pasta with crunchy rosemary roast potatoes dipped in the leftover caramelised cranberries and mushroom gravy, for that extra taste of Christmas.
What to drink with this recipe?
There are several drink options when it comes to what to pair with this Christmas pasta idea:
Wine: either a crisp dry white wine or a medium bodied red wine would work well. Grapes like Sauvignon Blanc for the white wine or a Merlot when it comes to red.
Beer: choose a variety that isn't too gassy and is smooth on the palette. An IPA would typically be a safe choice, but some lagers would also fit this description as well. It would just be best to avoid anything that is too heavy.
When to best enjoy this recipe?
One of the reasons this Christmas vegetarian pasta idea is great is because it can be enjoyed as a lighter lunch or served at dinnertime as a more substantial portion with a few additional side dishes to create a wonderful spread that would be ideal for entertaining guests.
Because of its quintessential Christmas ingredients, you could even serve it as an alternative to the traditional Christmas dinner or serve the night before on Christmas Eve to make the most of all the delicious ingredients.
How to store Christmas pasta?
This pasta version of a Christmas dinner is best eaten as soon as the ingredients are combined. Otherwise, the flavours tend to merge, lose some of their texture and don't quite deliver the same experience.
If you are looking to store leftovers or eat later it is best to keep the various elements separate, storing them in sealed containers in the fridge for up to 3 days and heating them up as required before combining.
Part of the reason for this, is that the ZENB Macaroni tends to dry out a little if left too long after cooking, so this is an element we would always recommend cooking fresh.
The mushroom gravy can be frozen if needed. Just allow to cool once made, pour into a sealed container and freeze. Allow to fully defrost and reheat when required.
How long does Christmas pasta last in the fridge?
Should you find yourself with any leftovers of this Christmas dinner pasta, it will keep in the fridge until the following day or for up to three days if you keep the elements separate and cook the pasta fresh, as needed. Just be sure to allow the dish to cool fully before transferring to a sealed container.
Can Christmas pasta be frozen?
Unfortunately, the complete Christmas pasta dish cannot be frozen, however there are elements that can be made ahead and frozen to save time later / to store leftovers.
caramelised cranberries: chill these down and store in an airtight container, where they will keep for up to 2 months in the freezer. When ready to use, thaw it in the fridge overnight and heat it up in either the microwave or stove top.
Mushroom gravy: this can be stored in the freezer for a couple of weeks. Once made, chill the gravy, before transferring to an airtight container. To enjoy, allow to defrost and reheat in either the microwave or stove top.
Elements that do not freeze well are the pasta, brussel sprouts and stuffing.
Can Christmas pasta be reheated?
Whilst the Christmas pasta is best eaten hot as soon as it is made, it is possible to reheat it.
The best way to do this is to place individual portions of the dish in the microwave and heat until hot throughout. What you might find however, becomes a little dry so try adding a splash of water or cover it whilst microwaving to retain some of the moisture content.