Chipotle-Spiced ZENB Pumpkin Penne Pasta
SERVES 4
PREP TIME 5 minutes
COOK TIME 25 minutes
TOTAL TIME 30 minutes
NUTRITIONAL FACTS
Serving Size: 453.04g

Calories: 405
| | |
| --- | --- |
| Total Fat | 7.4g |
| Saturated Fat | 1.5g |
| Salt | 1.4mg |
| Carbohydrates | 52g |
| Fibre | 14g |
| Protein | 22g |
| Vitamin A | 790.3mcg |
* Nutrition information is estimated based on the ingredients and cooking instructions as described in each recipe and is intended to be used for informational purposes only. Please note that nutrition details may vary based on methods of preparation, origin and freshness of ingredients used.
FEATURED IN RECIPE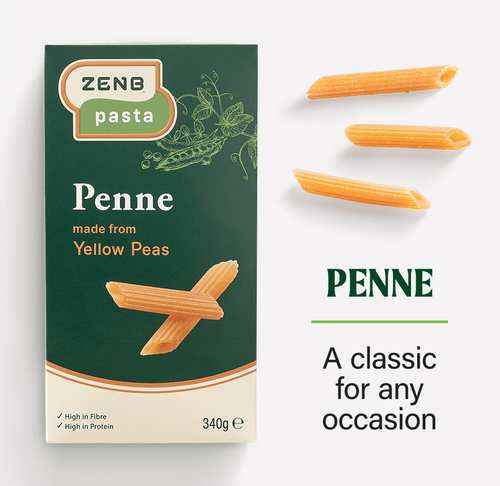 Penne Pasta
Perfect for the autumn season or anytime you need your pumpkin flavour fix, this ZENB Penne Pasta recipe delivers on pumpkin spice flavours whilst being high in protein and high in fibre.
INGREDIENTS
1 box (340g) ZENB Penne Pasta made from 100% Yellow Peas, uncooked
1 tablespoon olive oil
2 cloves garlic, sliced
1 yellow onion, finely chopped
1 tablespoon adobo sauce
240g canned pumpkin
375ml low-sodium vegetable broth
1/2 teaspoon salt
60ml reduced fat milk
22.5g shredded Parmesan cheese
1/2 teaspoon freshly ground black pepper
INSTRUCTIONS
1.
Heat oil in large pot on medium-high heat. Add onion; cook 5-7 min. until translucent. Add garlic; cook 30 sec. stirring continuously until fragrant. Stir in adobo sauce, pumpkin, broth and salt; bring mixture to a low boil. Reduce heat to medium-low; simmer, stirring occasionally, for 10 min.
2.
Meanwhile, cook ZENB Pasta as directed on package. Reserve 125ml pasta cooking water; drain.
3.
Whisk milk into pumpkin sauce. Add pasta and reserved pasta water to pot. Cook 3 min., until heated through and well combined. Garnish with Parmesan and pepper before serving.
Tasty Tips
Canned chipotle peppers are sold packed in adobo sauce. Look for chipotle peppers in adobo in the Mexican section of the grocery store. Wrap leftover chipotle peppers individually in plastic wrap before storing in the freezer.