Chicken and Chorizo Pasta
SERVES 2
PREP TIME 15 minutes
COOK TIME 15 minutes
TOTAL TIME 30 minutes
FEATURED IN RECIPE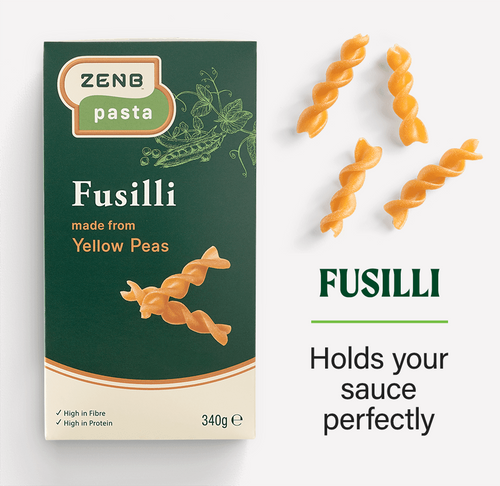 Fusilli Pasta
From cupboard to plate in 30 mins, this warming, tasty chicken pasta dish is sure to be a firm favourite this winter. Curated by @modernfoodstories using our gluten free ZENB Fusilli.
INGREDIENTS
2 skinless chicken breasts
Salt and pepper to taste
2 tbsp extra virgin olive oil
200g ZENB Fusilli pasta
150g cherry tomatoes, halved
2 small garlic cloves, minced
1/2 tbsp vincotto, sherry wine or white wine (optional but makes the dish!)
50g cooked chorizo, sliced
1/2 red chili thinly sliced, or to taste
80g fresh spinach
2 tbsp parsley or basil, chopped
Optional vegan or dairy parmesan
INSTRUCTIONS
1.
Bash the chicken breasts with a rolling pin to flatten slightly. Season the chicken with salt and pepper on both sides and rub with 1/2 tbsp of olive oil.
2.
Heat a griddle pan or frying pan and brush with olive oil to prevent sticking. Once hot, add the chicken and cook for approx. 4 minutes on each side or until cooked through. Set aside.
3.
Meanwhile, cook the pasta as per the packet instructions adding a little olive oil to prevent sticking and optional salt. Drain.
4.
Meanwhile, heat 1 tbsp of olive oil in a non-stick pan. Add the tomatoes, garlic, vincotto, sherry wine or white wine, chorizo and chili and toss over a low heat for 2 minutes until the chorizo releases its oil and goes slight crisp.
5.
Add the pasta to the pan and spinach and warm through until the spinach wilts, about 1 minute.
Tasty Tips
Taste and add salt and pepper to taste. Top with sliced chicken breast, fresh herbs and optional grated parmesan or vegan parmesan.
Can store in tupperware in the fridge for up 2 days.