Cheesy Leek & Mushroom Pasta
SERVES 1
PREP TIME 10 minutes
COOK TIME 15 minutes
TOTAL TIME 25 minutes
FEATURED IN RECIPE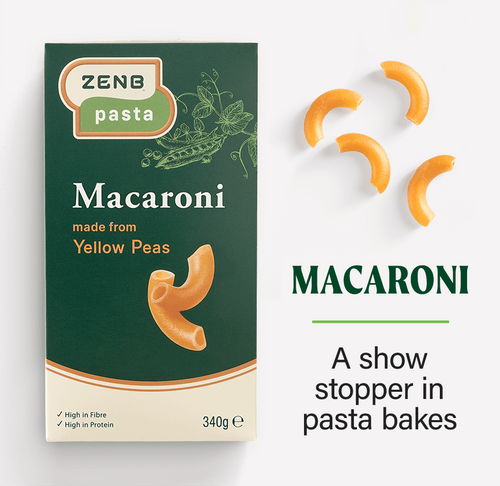 Macaroni Pasta
From cupboard to plate in under 30 mins, this warming, tasty mushroom pasta dish is sure to be a firm favourite this winter.
INGREDIENTS
85 g ZENB Macaroni
1 tbsp olive oil
150g leek, finely sliced
50g chestnut mushrooms, sliced
A few leaves of fresh sage, chopped
1 garlic clove, sliced
1 tbsp cream cheese
1 tbsp parmesan, grated
Chopped walnuts
INSTRUCTIONS
1.
Heat the oil in a frying pan, add the leeks and cook for 10 minutes until soft & golden.
2.
In a separate pan, boil and cook ZENB Macaroni.
3.
Meanwhile add chopped mushrooms, garlic & sage to the pan with the leeks and fry until caramelised.
4.
Add cream cheese and heat through until cheese loosely coats the vegetable mix, add a squeeze of lemon juice or cooking water from the pasta if needed.
5.
Drain pasta and add to frying pan, stir through and coat the pasta shells.
6.
Serve up and add parmesan and chopped walnuts for topping.
Tasty Tips
Add your favourite nut for a crunchy topping