Cauliflower Coconut Veggie Curry Recipe
Cook, food writer and creative whiz in the kitchen Dominic Franks has crafted a super stew-y, plant-packed curry that's filling and full of good things. A dash of ZENB Veggie Sticks and Bites gives an even tastier twist to this meal with plenty of mmmmm…
Check out the recipe below: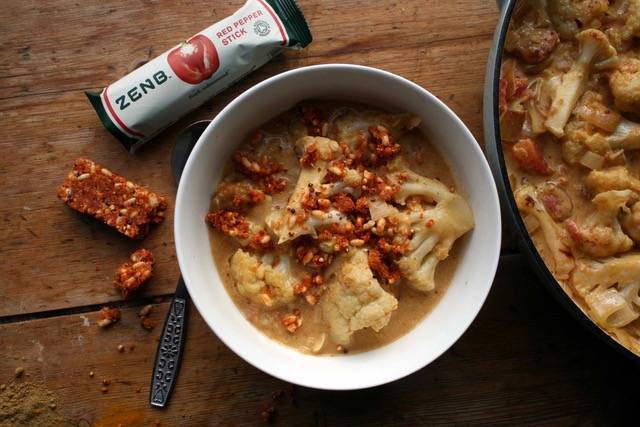 3 ZENB Veggie Bites (the red pepper one works beautifully, but choose your flavour)
1 ZENB Veggie Stick (I went for red pepper again)
150g red lentils
5 tbsp sunflower oil
2 tsp ground cumin
1 large cauliflower, florets cut off and large ones broken up
12 banana shallots, chopped
50g finely grated fresh root ginger
3 garlic cloves, finely chopped
1 tsp dried chili flakes
1 tsp freshly ground coriander seeds
½ tsp ground turmeric
1 tbsp mild curry powder
400ml tin coconut milk
200g tin chopped tomatoes
1 tbsp lime juice
PREP TIME
20 Minutes.
Put the lentils into a small pan with 450ml of cold water and bring to the boil. Lower the heat and simmer, stirring regularly, for 15-20 minutes until the lentils have become a thick puree. Cover and set aside.
Meanwhile, heat 3 tbsp of oil in a large saucepan over a medium heat. Add 1 tsp of ground cumin and the cauliflower florets and cook for 2-3 minutes, turning occasionally, until they're coloured here and there with golden-brown flecks. Remove on to a plate.
Add the remaining oil and ground cumin to the hot pan, then add the shallots. Lower the heat slightly and cook for 10 minutes, stirring occasionally, until soft and sweet but not browned.
Add the ginger, garlic and chili and cook for 2 more minutes, then stir in the ground coriander, turmeric and curry powder. Cook for a further minute and then stir in the coconut milk.
Add 3 ZENB Veggie Bites. Stir in the cauliflower and tomatoes and simmer for 10 minutes, stirring occasionally, until the cauliflower is just tender.
Stir the lentil puree into the curry with the lime juice and season with salt to taste.
Leave to simmer for 2-3 minutes, then crumble a ZENB Veggie Stick over the top before serving to add a crunchy bite.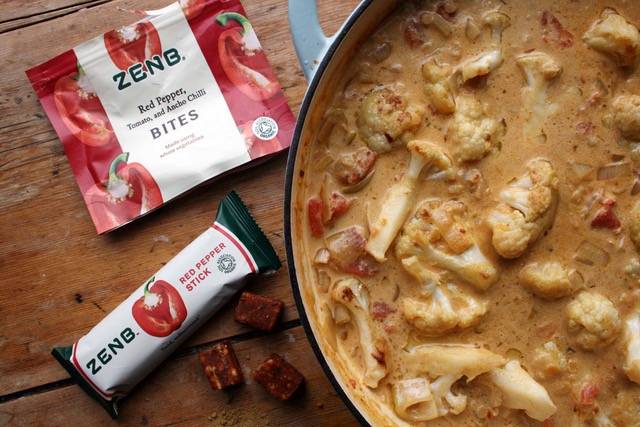 Discover more of Dom's delicious and inspiring kitchen creations here.
Share your own fun recipes (or even how this one turned out!) with the ZENB community on Instagram, Facebook and Twitter. Be sure to check back for fun new seasonal articles and ideas to help inspire a well-balanced life.
---