Caramelized Courgette & ZENB Penne with Effortless Summer Pesto
SERVES 4
PREP TIME 10 minutes
COOK TIME 10 minutes
TOTAL TIME 20 minutes
NUTRITIONAL FACTS
Serving Size: 385.32g

Calories: 545
| | |
| --- | --- |
| Total Fat | 27g |
| Saturated Fat | 3.5g |
| Salt | 1.6mg |
| Carbohydrates | 47g |
| Fibre | 13g |
| Protein | 21g |
* Nutrition information is estimated based on the ingredients and cooking instructions as described in each recipe and is intended to be used for informational purposes only. Please note that nutrition details may vary based on methods of preparation, origin and freshness of ingredients used.
FEATURED IN RECIPE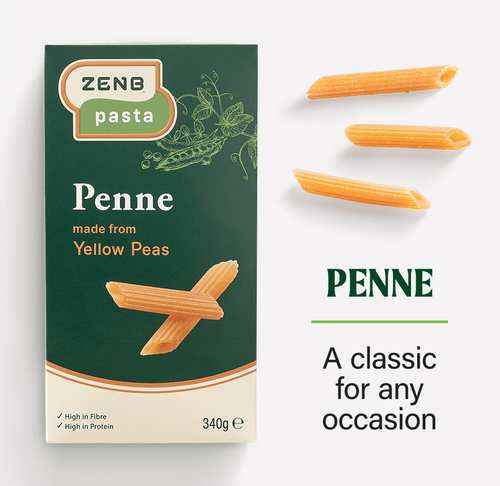 Penne Pasta
This recipe combines the delicious flavour of pesto with a Courgette packed ZENB Penne Pasta recipe. This meal takes only 20 minutes to make and is a great way to fill your pasta craving while getting in a good source of fibre.
INGREDIENTS
1 box (340g) ZENB Penne Pasta made from 100% Yellow Peas, uncooked
2 teaspoons olive oil
2 medium Courgette, quartered lengthwise, cut into 1/2-inch-thick slices
¼ teaspoon each salt & ground black pepper
175 ml vegetable stock
175ml prepared Effortless Summer Pesto
1 teaspoon white balsamic vinegar
1 tablespoon toasted pine nuts
INSTRUCTIONS
1.
Cook ZENB Pasta 2 min. less than directed on package. Drain.
2.
Meanwhile, heat oil in large skillet on medium-high heat until shimmering. Add the courgette to skillet in single layer. Cook, undisturbed, 3-4 min., or until bottoms are deep golden brown. Season with salt & pepper.
3.
Reduce heat to medium; add pasta and stock. Cook 2-3 min., stirring occasionally until pasta is done. Remove pan from heat; stir in pesto and vinegar. Sprinkle with pine nuts and additional ground pepper before serving.
Tasty Tips
Courgette and summer squash benefit from a quick sear in a hot pan for maximum flavour without developing a mushy texture. When time is limited, substitute purchased pesto for the Effortless Summer Pesto.