Brown Butter Agile with Crispy Shallots
SERVES 6
PREP TIME 10 minutes
COOK TIME 25 minutes
TOTAL TIME 35 minutes
FEATURED IN RECIPE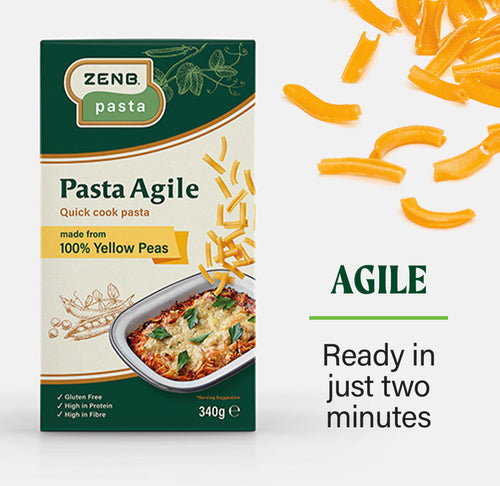 Quick Cook Pasta Agile
ZENB Pasta Agile with crispy shallots are combined with the sweet earthy flavour of leeks to create a creamy decadent dish. This recipe can be used as an impressive side dish or meal that is a good source of fibre.
INGREDIENTS
1/4 cup olive oil
3 medium shallots, thinly sliced into rings
2 tablespoons unsalted butter
250g cremini mushrooms, thinly sliced
1 small leek, white part only, thinly sliced
1 lemon, zested
2 cups water
1 box ZENB Pasta Agile
1 tablespoon chopped fresh Italian parsley
INSTRUCTIONS
1.
Heat oil in large skillet on medium-high heat. Add shallots. Cook 3-5 minutes, stirring frequently, until tender. Reduce heat to low. Continue cooking 3-5 minutes, until crispy.
Transfer the shallots to a clean plate. Discard remaining oil; wipe out skillet with paper towel.
2.
Melt and swirl butter in same skillet on medium-high heat until golden-brown. Add mushrooms; cook 5-8 minutes until browned. Stir in leeks; cook 1-2 minutes, until tender.
3.
Stir in water, ZENB Pasta and lemon zest. Cover with lid.
Cook 2 minutes, or until pasta is tender. Remove pan from heat; stir gently.
Sprinkle with parsley and crispy shallots. Serve immediately.
Tasty Tips
Substitute shiitake, button, oyster or maitake mushrooms for the cremini mushrooms.