Beetroot Pasta
SERVES 4
PREP TIME 10 minutes
COOK TIME 40 minutes
TOTAL TIME 50 minutes
FEATURED IN RECIPE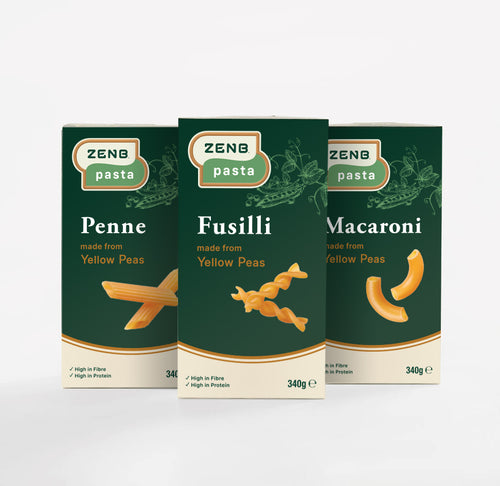 Short Pasta Variety Box
This roasted beetroot pasta makes the most of this underrated vegetable. By roasting the vegetables for this sauce, not only does it make it super simple to make, but it creates a sauce that is packed full of flavour. Created by @fortheutterloveoffood
INGREDIENTS
340g ZENB penne pasta
100g Vegan feta 'cheese'
Pasta Sauce
600g Fresh beetroot, washed, peeled and roughly chopped
1 Red onion, peeled and roughly chopped
4 Large garlic cloves, peeled
1 tbsp Olive oil
1 tsp Chilli flakes
125ml Milk of choice
Salt & pepper to taste
Crispy Garlic Breadcrumbs
50g Panko breadcrumbs
1 tbsp Olive oil
1 Garlic clove, minced
1 tbsp Flat leafparsley, chopped
INSTRUCTIONS
1.
Preheat on oven to 180oc.2. Place all the pasta sauce ingredients on a baking tray (except the milk of choice), toss until combined.
2.
Roast in the oven for 40 minutes or until starting to caramelise, turning the vegetables halfway.
3.
Once the vegetables are roasted, transfer the sauce to a blender, add the milkand blitz until silky smooth.
4.
To make the garlic breadcrumbs, add all the ingredients to a small non –stick frying pan (except the parsley) and fry on a high heat until golden brown. Stir frequently to avoid them burning. Mix through the herbs once golden brown.
5.
Cook your ZENB penne pasta according to packet instructions. Stir through the beetrootsauce and serve topped with crumbled vegan feta 'cheese' and the crispy garlic breadcrumbs.
Tasty Tips
Be extra cautious when peeling the fresh beetroot as it is prone to staining anything that is porous.