Agile Pasta with Anchovy, Capers & Olives
SERVES 2
PREP TIME 5 minutes
COOK TIME 10 minutes
TOTAL TIME 15 minutes
FEATURED IN RECIPE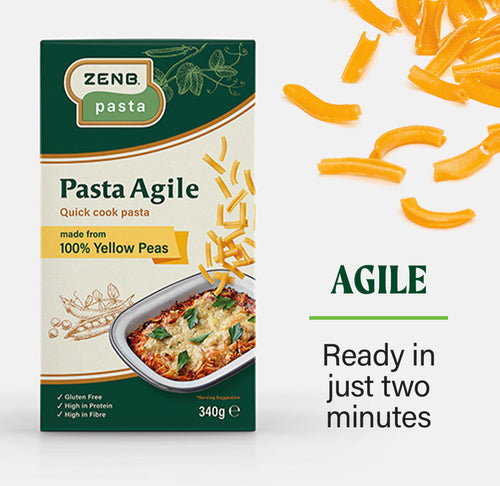 Quick Cook Pasta Agile
Looking for a quick meal for your busy day? Our Pasta Agile fits the bill, cooking in just 2 minutes. Give this Anchovy, Caper & Olive salad a go!
INGREDIENTS
170g agile pasta
2 tbsp olive oil
4 tbsp dried breadcrumbs
1 garlic clove, crushed
6 anchovy fillets, sliced
3 tbsp olives
3 tbsp capers
Handful of fresh dill, chopped
Zest and juice of 1/2 lemon
1 chilli, chopped
Parmesan, grated
INSTRUCTIONS
1.
Heat 1 tbsp of olive oil in frying pan, add 4 tbsp of gluten free breadcrumbs.
Set aside for later once golden and crispy.
2.
Add 1 tbsp of olive oil to the frying pan, 1 crushed garlic clove, 6 anchovy fillets, 3 tbsp capers, 3 tbsp olives & fry for 3 minutes.
3.
Add zest and juice of 1/2 lemon, 1 chopped chilli, handful of fresh dill.
4.
Add the uncooked agile pasta with 100ml of water, cook through for 2 minutes or until the pasta is soft
5.
Serve up - add golden breadcrumbs, parmesan and fresh dill
Tasty Tips
Toast the breadcrumbs crispy to add some extra crunch!