5 minute Cheesy Tomato Pasta
SERVES 2
PREP TIME 5 minutes
COOK TIME 5 minutes
TOTAL TIME 10 minutes
FEATURED IN RECIPE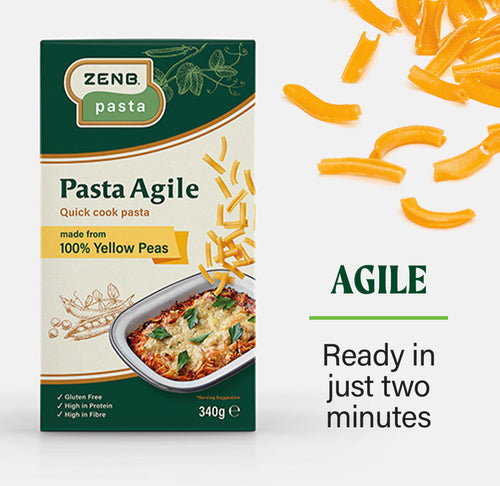 Quick Cook Pasta Agile
An easy, high protein dish for when you're short on time, ideas and/or ingredients. This simple pasta dish is full of flavour and is perfect for a quick lunch or simple supper.
Brought to you by: Flora Beverley, @foodfitnessflora
INGREDIENTS
85g ZENB Pasta Agile
1 onion
2-3 garlic cloves
½ block of vegan smoked cheese
Handful of tomatoes
Olive oil
INSTRUCTIONS
1.
Dice the onion and garlic. Grate the cheese and boil a kettle.
2.
Heat oil in a frying pan and fry onion and garlic until softening.
3.
Add handful of tomatoes. Add Pasta Agile to cover the base of the pan. Add boiling water to cover the pasta.
4.
Sprinkle on grated cheese and cook for 2 minutes until the pasta is cooked.
5.
Season and serve.
Tasty Tips
You can add as much or little pasta as you like for this recipe!