3 minute cheesy pasta in a cup
SERVES 1
PREP TIME 1 minutes
COOK TIME 3 minutes
TOTAL TIME 3 minutes
FEATURED IN RECIPE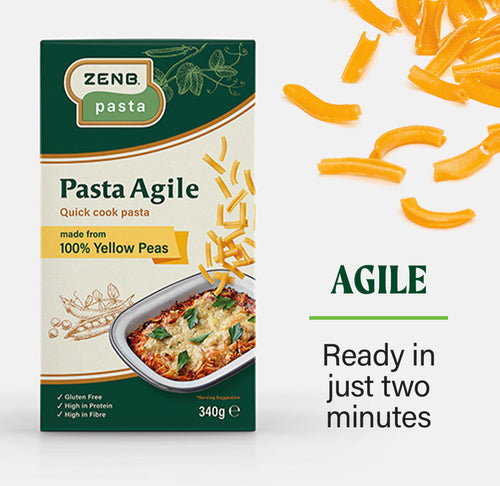 Quick Cook Pasta Agile
Super simple melty cheese and pasta, ready in 3 minutes. Perfect if you need a quick snack, for lunch or you're a student on a tight budget. This easy pasta recipe uses ZENB's Pasta Agile, almond milk (or your milk of choice) and grated cheese.
INGREDIENTS
30g ZENB Pasta Agile
150ml water (room temperature)
3 tbsp almond milk (or milk of choice)
50g grated mozzarella / cheddar mix
Pinch salt + pepper
INSTRUCTIONS
1.
Combine ZENB Pasta Agile with water in a large wide mug and microwave for 1.5 minutes.
2.
Drain the water. Add the milk and cheese. Stir and microwave for 1.5 minutes until the cheese melts.
3.
Serve with salt and pepper and any optional flavourings below.
Tasty Tips
Make sure you use a large mug for easy mixing.
Feel free to add any of the following to pimp up your cheesy pasta and it still be cooked in 3 minutes:
Fresh parsley, tinned sweetcorn, chopped olives, sun-dried tomatoes, parma ham or cooked chorizo or a drizzle of flavoured oil.