10 Minute Minestrone
SERVES 2
PREP TIME 5 minutes
COOK TIME 10 minutes
TOTAL TIME 10 minutes
FEATURED IN RECIPE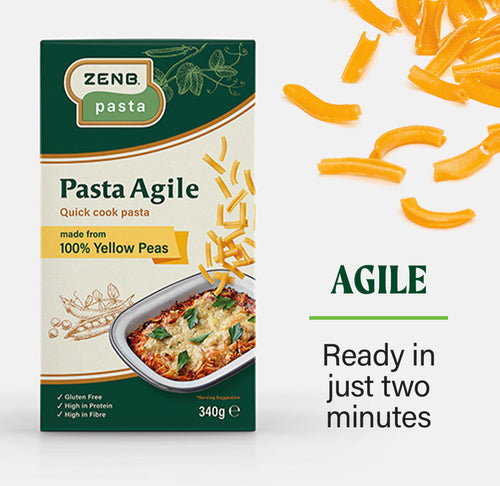 Quick Cook Pasta Agile
Minestrone style soup with five different seasonal vegetables and tasty spices, great for a quick and nourishing lunch. Using the Agile makes this soup extra speedy but the secret is the layers of flavour made by cooking the vegetables and spices first. Add a spoonful of pesto and serve with some toasted lunch for an even more filling meal or keep it simple with the recipe as it is.
Brought to you by: @Lauren_Lovatt
INGREDIENTS
2 tbsp olive oil
50g Leek, washed and finely chopped
50g Carrot, washed and finely diced
50g (1) celery stick, washed and finely diced
50g Celeriac (or other seasonal veg like courgette) peeled and finely diced
25g kale, washed and with the leaves stripped from the stems and the stem finely chopped
1 tbsp Tomato puree
1 tsp smoked paprika
1 sprig rosemary, kept whole
1 sprig thyme, kept whole
1/2 tin (200g) tinned tomatoes
350ml vegetable stock
75g ZENB Pasta Agile
INSTRUCTIONS
1.
Heat the oil in a small saucepan and add the chopped leek, carrot, celery, celeriac and kale stems with a pinch of salt, and lightly sauté for 2 minutes until the vegetables are slightly softened.
2.
Add the tomato puree and smoked paprika and cook for one more minute, then add the fresh herbs, tinned tomatoes and stock.
3.
Simmer for five minutes with the lid on.
4.
Add the ZENB Pasta Agile and kale leaves and cook for a further 2 minutes, until the pasta is soft.
5.
Season with pepper and ladle the soup in two bowls
Tasty Tips
If you make a big batch of this recipe and don't use it all you can store it in the fridge and then reheat it with a generous splash of water later.