Are you considering to purchase a ZENB subscription or are you simply curious on how it works?
Read our guide below, including all FAQs for existing subscription customers.
DID YOU KNOW WE OFFER A SUBSCRIPTION SERVICE?
We see a number of our ZENB'ers buying month after month, but did you know you can have a subscription which means you can have the choice of exactly what products you want sent out automatically and all with FREE DELIVERY!
BENEFITS OF A ZENB SUBSCRIPTION
As well as the convenience of not having to remember to come back to our site every time you run low on pasta (although we love to see you) a ZENB subscription offers a number of benefits and features to make getting our tasty whole veg products to you as hassle free as possible.

Free Delivery On EVERY Order

Ability to pick the exact mix of products you want.
Cancel any time
Maximum Flexibility on your orders
Move your order date backwards or forwards depending on your usage.
Change how often your deliveries arrive
Skip deliveries
Change Quantities
Add or Swap products - want to give something new a try? Go right ahead!
NEW PICK & MIX SUBSCRIPTIONS
Welcome to a new way to ZENB, welcome to PICK AND MIX!
Our newest subscription model, our hope is you see this as more subscribing to us as a brand rather than a singular product. Pick and Mix allows you to vary what you get as well as how often every time you order!
Want all pasta all the time? DONE
Want to try a new product launch? EASY
Want some but not ALL of the agile bowl flavours?
TODAY IS YOUR LUCKY DAY!
The idea here is to give you more flexibility in how you ZENB.
We are sure you cant wait to get involved, read on below for what (we hope) is an easy to follow guide.
Follow these simple steps to purchase a ZENB subscription:
STEP 1: SELECTING YOUR PRODUCTS
First things first, what are your options?
We offer three different pack sizes dependent on your needs - 5,10 & 20 items.
You can find them here.
Once you've chosen the size that's right for you, you will be presented with a product page a little like this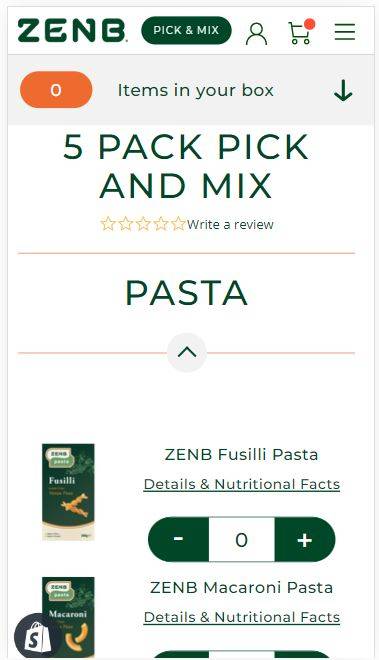 As you scroll down the page you'll see each of our products.
The Plus adds a product to your box, a minus removes it.
Details & Nutritional Facts will give you more info on the product itself.
Once you have chosen enough to fill your box you will get a message to scroll down to the bottom of the page.
All you do now is select how often you want your delivery and click add to cart.
STEP 2: CHECKOUT & NOTIFICATIONS
You can then proceed to the checkout and pay as you would with any normal order. We will then email you FOUR DAYS before your next order is due to process, at that point you can make any amends to how often or when your next order will ship.
Otherwise things will proceed as you have requested in your initial order.
STEP 3: ACTIVATE YOUR ACCOUNT
To access your subscription to make any changes or amends in future you will need to activate your account on our website.
IF you have an account already GREAT - please use your existing log in.
If you don't previously have an account, an invite will be sent to you to activate one when you place your subscription order.
Look out for an email titled: "Customer account activation"
Please remember to check your SPAM/JUNK folders because these things do have a habit of going astray.

Set your password (keep this in a safe place as you will need it again)
You are now set up to manage your subscription!
See why our customers Love ZENB


Keep reading if you already have a ZENB Subscription and might have some questions.
CONGRATULATIONS:
You have a ZENB subscription -
what next?
HOW DO I ACTIVATE MY SUBSCRIPTION ACCOUNT?
You've decided to open a ZENB Subscription - great choice!
Please read the previous paragraph where we highlight all the necessary steps to activate your ZENB subscription!
Make sure to look out for an email titled: "Customer account activation" and remember to check your SPAM/JUNK folders because these things do have a habit of going astray.
HOW DO I MANAGE MY SUBSCRIPTION?
Once you log into your account you can click on the following section to access your subscriptions: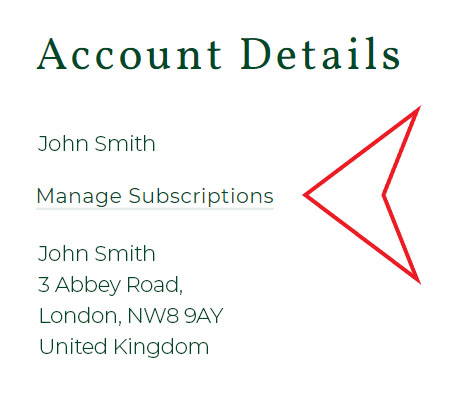 From here you can view your order history, and also review any upcoming orders.


Want to make amends?
See our guide on how to do that below...
HOW DO I MAKE CHANGES TO MY SUBSCRIPTION?
Too much ZENB and want to take a rest? Just can't get enough? Moved house?

Within this next section we will show you how to do the following:

-) Amend your delivery Address.
-) Change your Re-Order date.
-) Skip your next delivery.
-) Change how often your deliveries come, you can choose from weekly to up to 12 weekly.
-) Change your box size or quantity

Changing your delivery address
Once in the "manage subscriptions" section you can click on your active subscriptions by clicking on the below boxes to access the details of your subscription
You should now be presented with the following screen to allow you to manage the details of your subscription.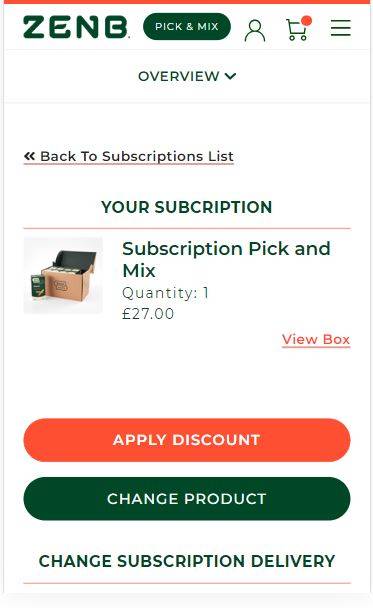 Scroll down to the "YOUR DETAILS" section, where you will find your address.
.
Click edit - you can then update your address.
Want to change your product?
I WANT TO CHANGE WHATS IN MY PICK AND MIX BOX
First of all, lets check what's in your box!
LOG INTO YOUR ACCOUNT HERE: https://zenb.co.uk/account/login
THEN: Click on "Manage Subscriptions" - Its highlighted in orange and sits under ACCOUNT DETAILS (like we covered above)
This opens up a list of your subscriptions (both Active and closed)
Find the one you want then hit MANAGE SUBSCRIPTION.
Now you should be within the actual subscription itself.
By clicking on "View Box" you can see what products you are currently subscribed to.
PRO TIP: at this point its a good idea to make a note of what you have in there and what you want to change.
(we'll revisit that point later)
If you want to change any of them please click on "CHANGE PRODUCT"
A slider should populate with the option to "update" or "SWAP PRODUCT"
You want to "SWAP PRODUCT"
At this point you simply choose the size of box you want to swap to.
If you are keeping the box size the same, them just choose the one you already have!
Then all that's required is that you build the box that you want from the products available!
That's where the PRO TIP we mentioned earlier comes in.
Unfortunately your box will empty each time so you'll need to keep a note of what you didn't want to change from the time before.
We know, we are sorry - we are working on making this part better!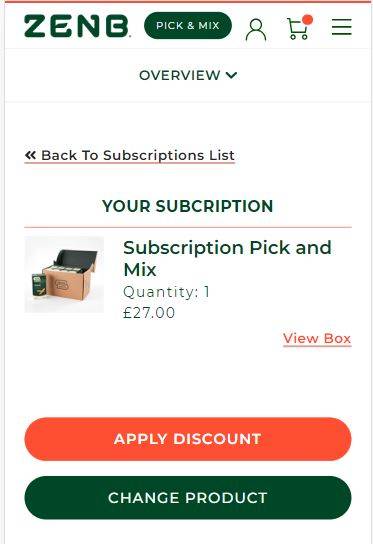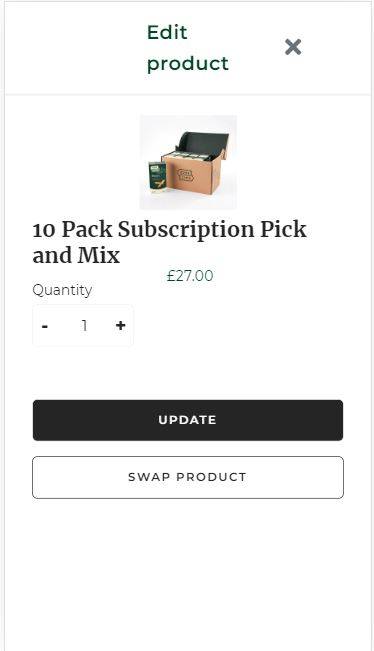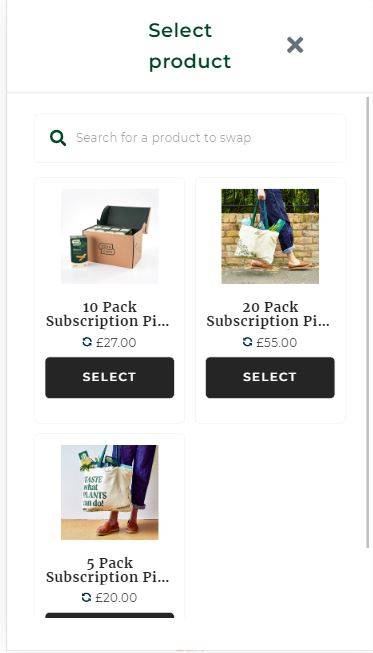 The below images show how the screen should look for when you want to build your new delivery box.
The look and feel are similar to how it was when you set up your fist subscription.
If you need a refresher, feel free to have a read above!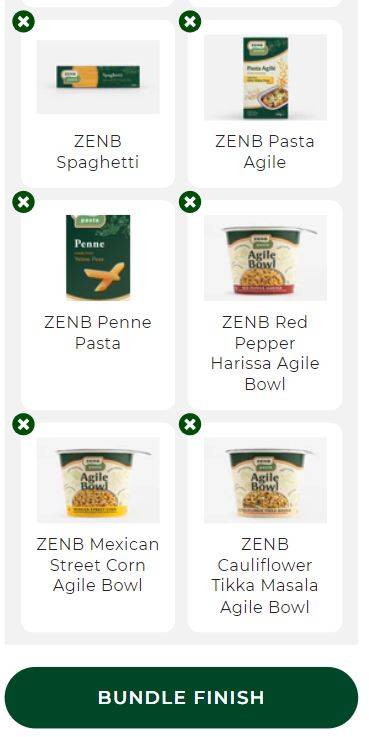 Once you have picked the products of your choice the "BUNDLE FINISH" Button will turn green.
CLICK THAT!!
You will then be prompted to set your delivery schedule... 2, 4, 8 or 12 weeks as you see fit.
CLICK SWAP PRODUCT
And you're now done!
Check the "YOUR BOX CONTAINS" field again, to make sure it matches your new selection.
Everything should now despatch on the dates and cadence you've selected till next time you fancy a change.
OTHER FREQUENTLY ASKED QUESTIONS
Gone through what you have faster than anticipated, and can't wait for more?
No Problem at all, again, by accessing your existing subscription you have the flexibility of bringing forward your delivery dates or indeed changing the frequency of your deliveries so they come more often.
First step as above is to access your subscription as described.

Then simply scroll down till you see the section "CHANGE SUBSCRIPTION DELIVERY"
If you want to receive more frequently from then on we suggest you amend the frequency of your resupply orders to make them come more often.
This can be done by using the DELIVERY SCHEDULE.
Simply Click on the edit button and you will be option of choosing deliveries every 2, 4, 8 or 12 weeks.
Alternatively you can simply bring forward your delivery date by clicking on the edit button by "NEXT CHARGE DATE".
This will present you with a calendar of when you want your next shipment to happen.
Please note that your delivery schedule will be based off this new date.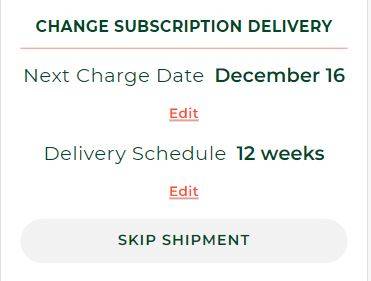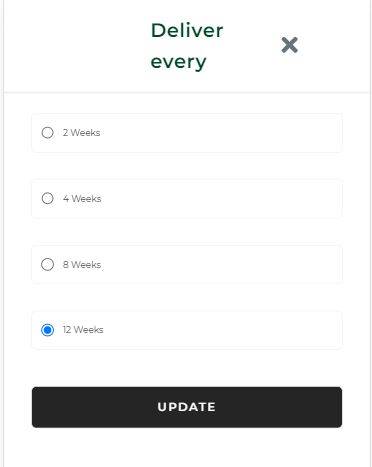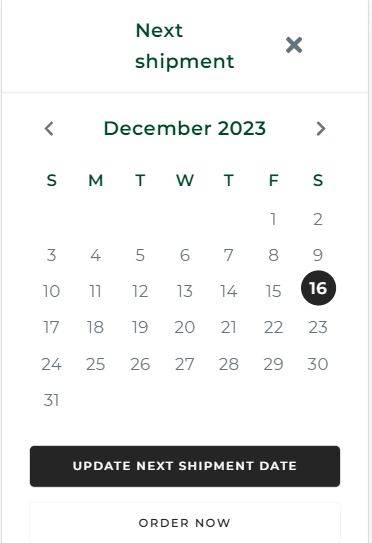 Too much and want to wait for more - skip a delivery!
We will send you an email three days before your future subscription orders ship from our facility.
This allows you the opportunity to decide if you want to continue as is, or indeed if you want to amend when how often we resupply you.
By skipping a delivery, your delivery periods remain the same, you just miss out on one.
Eg, if you have ordered on a monthly frequency, your orders still come monthly, but you just miss one months delivery, skipping a delivery will make it two months to your next order.
You will then continue on at your original frequency post that skipped order.
This can be done simply by clicking the "SKIP SHIPMENT" button in the Delivery section.
Want to cancel your subscription?
Well, first of all - we are sorry to see you go.
However we understand these things happen so the process is easy squeezy Yellow Peasy!
As we mentioned above, simply navigate to your active subscription, scroll to the bottom of the page. And click the "cancel subscription" button.
We will ask you why we are unsubscribing… don't worry, we aren't being nosy, we simply use this information to help us improve our offering in the future.
Rest assured, it's all nice and anonymous, and we don't take it personally!
After that, your subscription is cancelled.
You shouldn't receive any more ZENB automatically and we won't take any more payments.
If you want to confirm, feel free to reach out to support@zenb.co.uk, we are more than happy to hear from you.
---