Batch Cooking 101 & Recipe Recommendations
Save yourself time and money with these healthy recipes that are perfect for preparing in advance.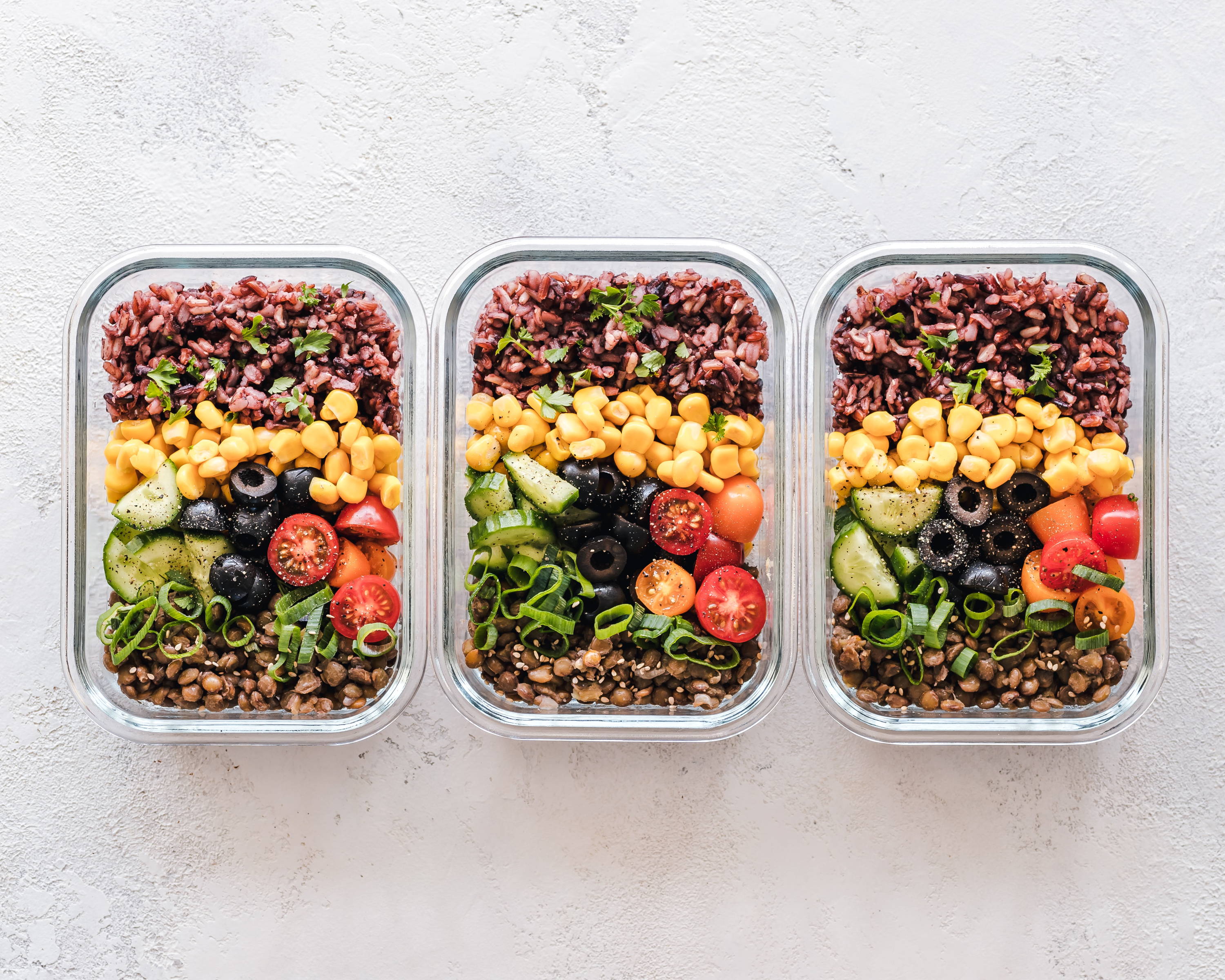 Batch cooking means preparing larger portions of whole meals to cook all in one go. You can then keep them in the fridge to be eaten during the week or store them in the freezer to enjoy them at a later date. You can also prepare whole meals without cooking them, or meal components ready to be pieced together.
What are the benefits of batch cooking?
For a start it will save you lots of precious time and help you get organised, enabling you to plan your meals, from simple breakfasts to dinner parties with friends. Rather than spending every evening prepping dishes or half your day foraging for lunches, a few hours in the kitchen can mean meals in minutes for the rest of the week – and further into the future.
Is batch cooking healthy?
It depends on what you cook, but batch cooking means you're in control of your own consumption. And simply because you have the choice to cook fresh ingredients, you can have wholesome and nutritious meals on hand as an alternative to takeaways or less healthy but convenient dishes. Batch cooking also means you can make your healthy meals as exciting as you like.
Is batch cooking cheaper?
You might end up spending a bit more on one shop, but in the longer run batch cooking should be kinder on your pocket. Buying in bulk is invariably cheaper than buying a number of smaller amounts, and because you only purchase what you need, you're less likely to be adding extras to your basket. It also means you can often take advantage of supermarket deals and discounts. And obviously when you have a delicious dish ready to go you won't be reaching for that pricey takeaway menu.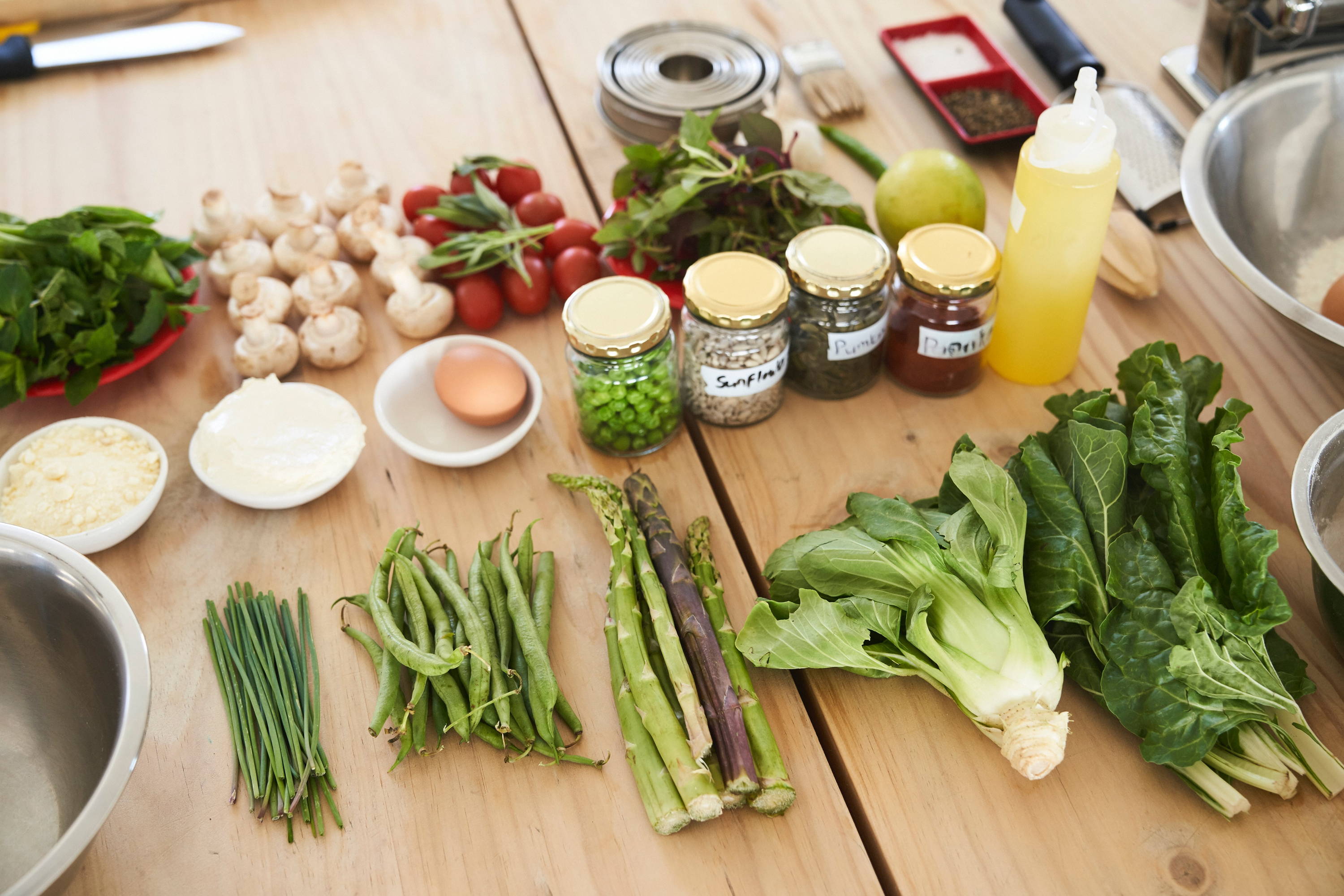 How long will batch cooking last in the fridge?
Once cooked, different ingredients will last for different times in the fridge. Below is a guide, but always check for any strange smells or textures before you eat anything you've stored. Ensure your fridge is at 5C or below.
Pasta: 3-5 days
Meat: 3-4 days
Poultry: 3-4 days
Fish: 3-4 days
Veggies: 3-5 days
Eggs: 1 week
There's no specialist equipment needed for batch cooking, just a few simple essentials.
Big pans: you're cooking in bulk, ensure you have enough big pans to cope.
Large mixing bowls: for bringing all those lovely ingredients together.
A sharp knife and chopping board: to perfectly prep your ingredients.
Storage containers: enough good size, eco-friendly containers for your meals.
Labels: keep track of what you've got and when you cooked it.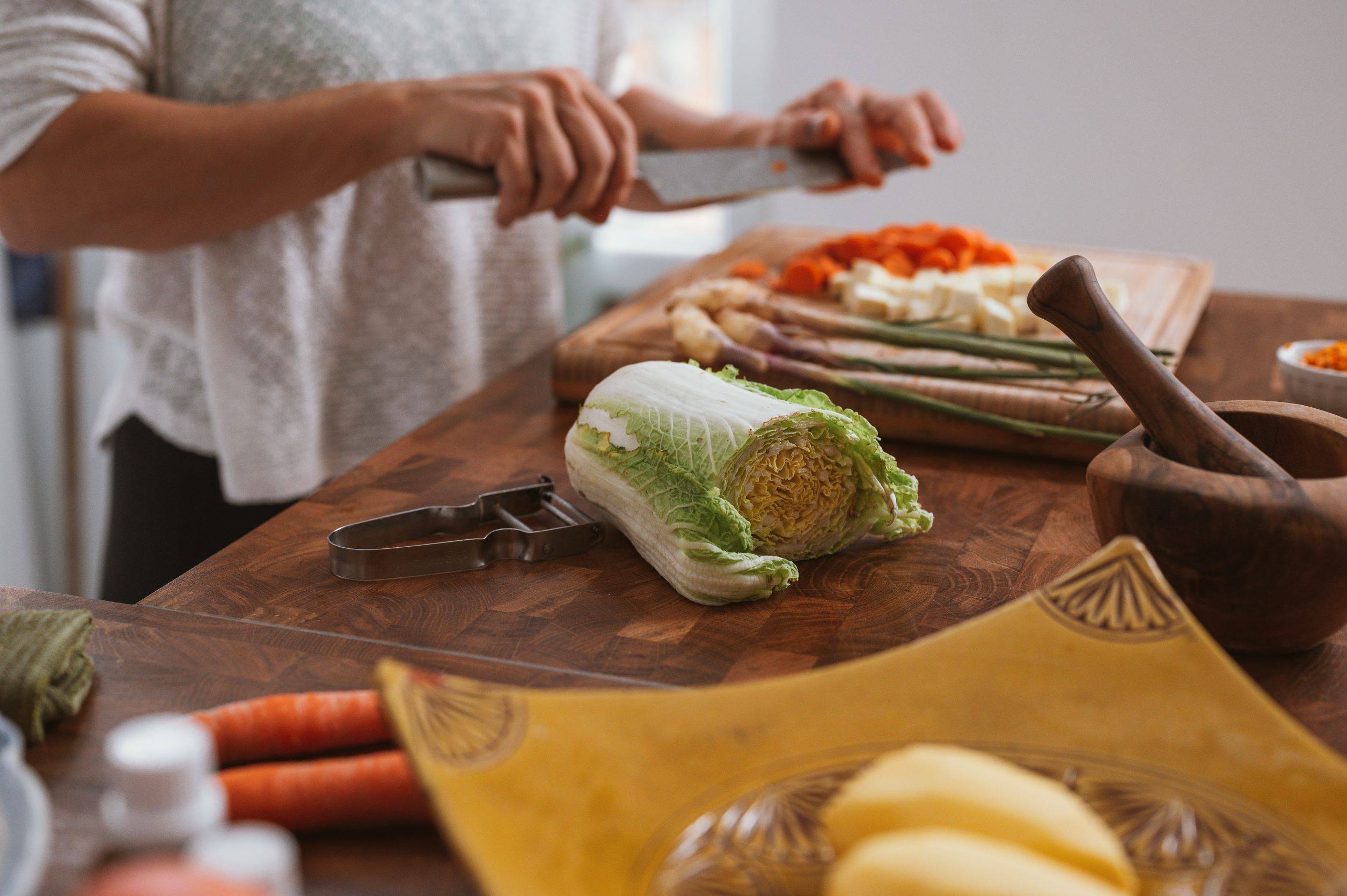 Top tips for easy batch cooking:
1. Be comfy: make batch cooking fun by ensuring you've got a couple of hours spare and you're not in a rush. Make sure your kitchen's tidy, there's plenty of space in the fridge and freezer, pop on your favourite tunes and get cooking.

2. Get prepped: make things easy for yourself by peeling, chopping, slicing or grinding all your ingredients first. It's quite satisfying, gives you a clear view of your menu and makes it easier to add ingredients as and when you want.

3. Keep it clean: you'll thank yourself later if you clean up as you go. It's simple, satisfying and means you don't have that moment when you're facing kitchen armageddon at the end of a batch cooking session.

4. Be firm with veggies: the last thing you want is for your veggies to become overdone or soggy the second time you heat them up. It's easily avoided by slightly undercooking them the first time round. If possible, simply blanch them and add to your dish at the end.

5. Cool it: your food will keep better, and you'll save energy if you cool it thoroughly before putting it in your fridge or freezer. Always try to store your meals in glass or metal containers and you can cool them quicker by leaving them in a shallow dish of cold water.

6. Don't overfill: your food will expand when it freezes, especially if it's got a high water content. So, if you're storing in jars leave the lids loose until it's fully frozen and leave a little space at the top.

7. Oven-proof portions: if you're stocking up on a favourite dish, divide your batch up into meal-sized portions before you freeze–- it's much easier than trying to divide a frozen block later. Try to store them in oven-proof containers that you can simply thaw and recook.

8. Order: always ensure all your meals are properly labelled and your fridge and freezer are organised so you know what you've got. Arrange the newest batches at the back and have regular checks to make sure nothing is being lost. Most meals will keep for up to three months in the freezer.

9. Bring the heat: once you've defrosted your food, check how to reheat depending on the ingredients, but the golden rule is always ensure your meal is piping hot all the way through. And only ever reheat once.

Now you're ready to join the batch cooking revolution, we've handpicked a selection of easy recipes to get you started. Make ZENB your perfect partner for planning and prepping delicious meals that you can batch cook and eat hot or cold, whether at home or on the go. We've also got some tasty tips to help make healthy eating a daily habit.
Breakfast - Batch cooking recipes
ZENB Macaroni Pasta Frittata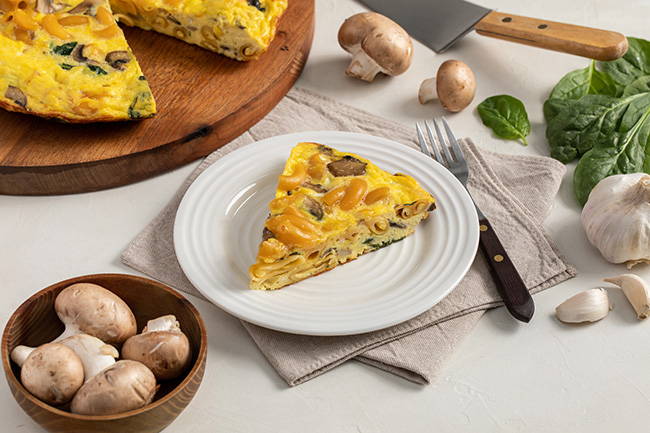 Packed with veggies, eggs and cheese, this flavourful frittata is high in vitamin A and a source of protein and iron. It's incredibly simple to prepare and while our recipe serves six, as with all batch cooking you can simply scale up as you please. A delicious way to start any day.
Why is this recipe suitable for batch cooking?
This is the ideal batch-cooking-in-a-hurry brekkie. It takes just five minutes to prep and with its payload of good ingredients, it's perfect for powering you through your morning and beyond. The frittata is delicious hot but the flavours develop beautifully when cold.
How can I store this meal?
Once cooked, allow your frittata to cool and then divide into handy slices. If you're freezing it, try to store separately, or wrap each slice in parchment and store together in an airtight container to make it easier to separate each tasty portion.
How long can this meal last in the fridge?
This is quite a moist meal which means you don't want to leave it too long in the fridge. However, it should still be good to eat for about 3-4 days.
Beetroot Porridge with Berry Jam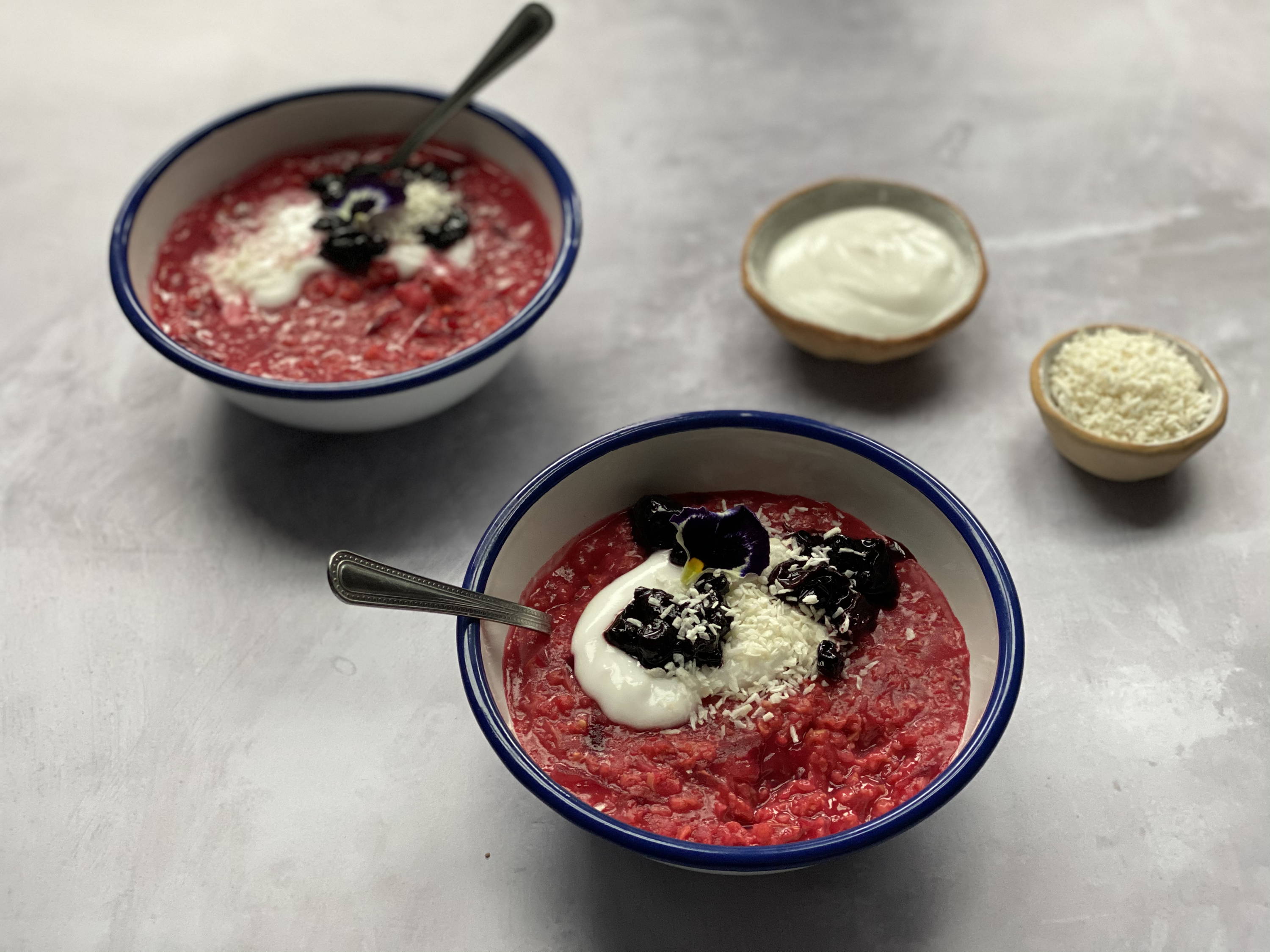 If you're feeling a little more indulgent in the morning, try this rich and creamy porridge that's packed with good things and is gluten and dairy free. It will bring a tasty and nutritious dash of colour to your breakfast bowl - and nobody's going to tell on you if you try it as a lunchtime snack too!
Why is this recipe suitable for batch cooking?
Once you've cooked up a big pot of this porridge, it's incredibly simple to put away for breakfasts during the week. And with its scrumptious combination of sweet and tart flavours, it's a dish worth getting out of bed for.
How can I store this meal?
You can freeze your porridge to have whenever you fancy it, but it's probably at its best stored in a big container in your fridge and ladled out over the course of a week.
How long can this meal last in the fridge?
Your porridge will be fine for 4-5 days in your fridge, but simply add your yoghurt, fresh fruit or flowers garnish fresh each time you serve it up.


LUNCH - BATCH COOKING RECIPES
Lauren Lovatt's Tricolour Pea Salad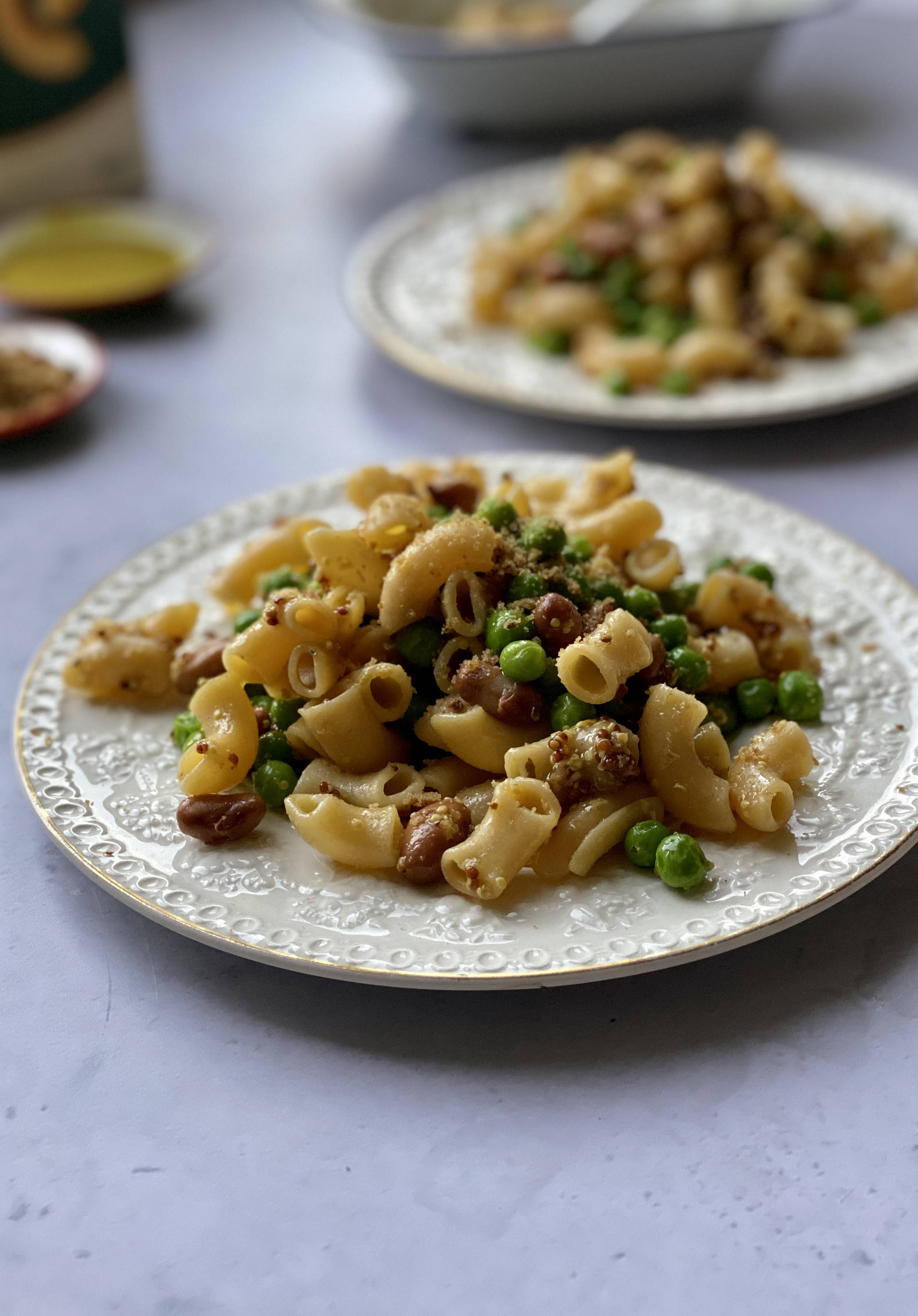 Plant-based chef, entrepreneur and firm friend of ZENB Lauren Lovatt has crafted this light but filling pea salad. We simply handed her a box of ZENB Yellow Pea Macaroni and let inspiration do the rest. It's a delicious, easy to eat anywhere meal that's a good source of protein.
Why is this recipe suitable for batch cooking?
This is a terrifically tasty meal you'll be looking forward to trying again and again. And with its generous helping of protein you can be sure that it'll give you a booster on those days you need it the most.
How can I store this meal?
As with all batch cooked meals, ensure it's cooled and then – if you're freezing – store portions separately if possible. Otherwise this is a recipe that's not too difficult to separate when frozen so you can simply ladle it into a large container.
How long can this meal last in the fridge?
Once dressed your pea salad will keep happily in the fridge for up to three days.
ZENB Sweetcorn and Tahini Macaroni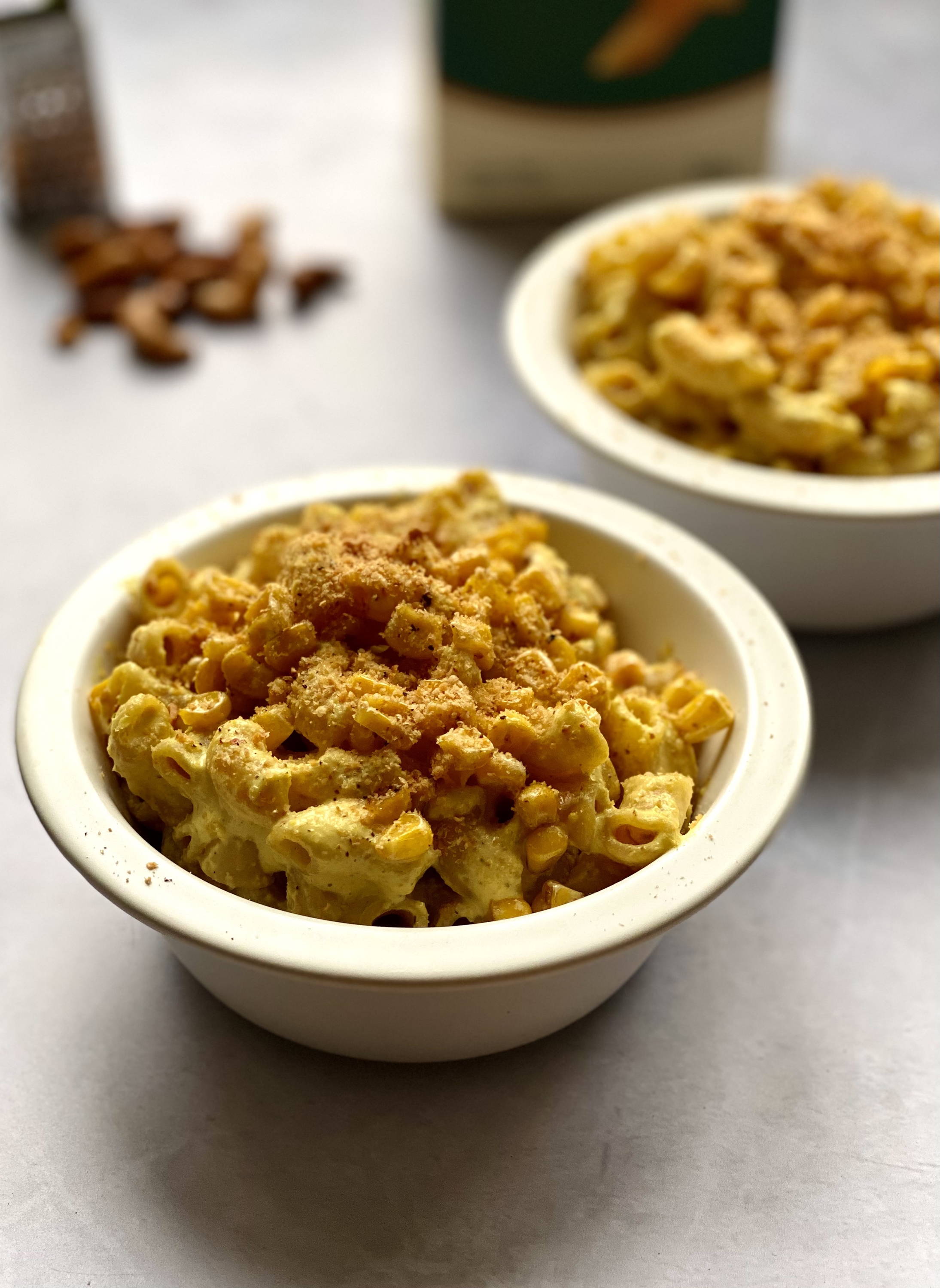 This tasty twist on one of the nation's favourite dishes is infused with chilli flakes and turmeric to pack a spicier punch than expected. Also, with a lovely helping of tahini you'll add a captivating hint of middle-eastern cooking to your meal.
Why is this recipe suitable for batch cooking?
Loaded with nuggets of golden sweetcorn and plenty of Yellow Pea Pasta this is another wonderfully filling meal you can whip out when you need a little lunchtime comfort. And what's easier to batch cook than pasta, right?
How can I store this meal?
This is perfect for portioning up, or once more if space is an issue it can all sit in one airtight container. Simply ensure you get a rich helping of all the tasty elements in each meal-sized amount.
How long can this meal last in the fridge?
You'll be able to enjoy your dish a good four days after you first refrigerated it.


Dinner - BATCH COOKING RECIPES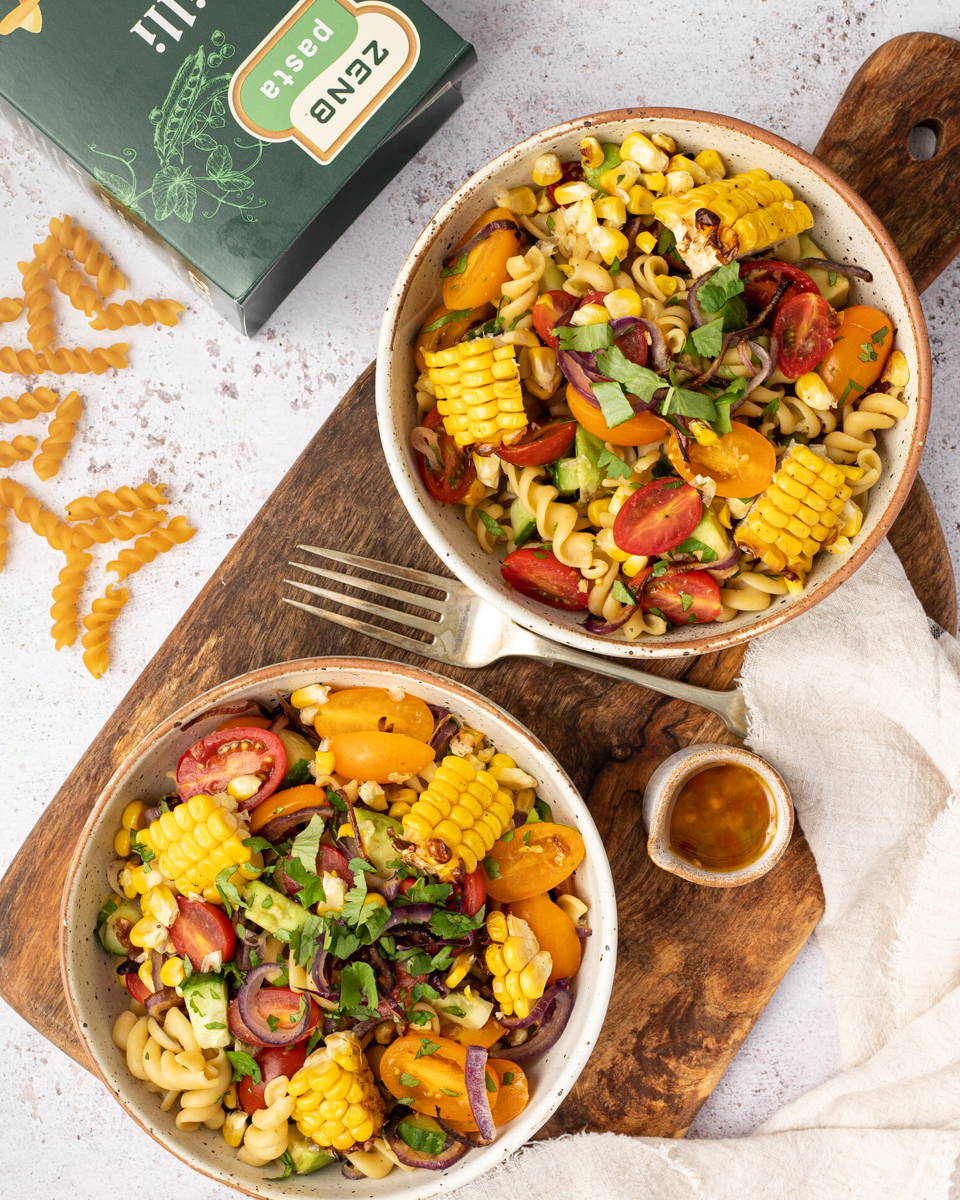 Packed with delicious veggies and drizzled with zesty lemon juice, this is a salad hearty enough to have as a main meal. It's packed with sun-kissed ingredients and perfect for barbeques, but adds a taste of summer all year round.
Why is this recipe suitable for batch cooking?
So brimming with flavours you'll simply want this meal again and again. With just five minutes' prep time, it's the epitome of batch cooking with ease.
How can I store this meal?
It couldn't be simpler. Pack it into a generous container and stick it in your fridge. This is another one that can be frozen, but thrives best when simply chilled. Try to avoid nibbling on it between meals.
How long can this meal last in the fridge?
Luckily It keeps its crucial crunch and bite after a few days in the fridge, so is ideal for cooking in quantities.
ZENB Macaroni Broccoli Bake with Crispy Seeded Breadcrumbs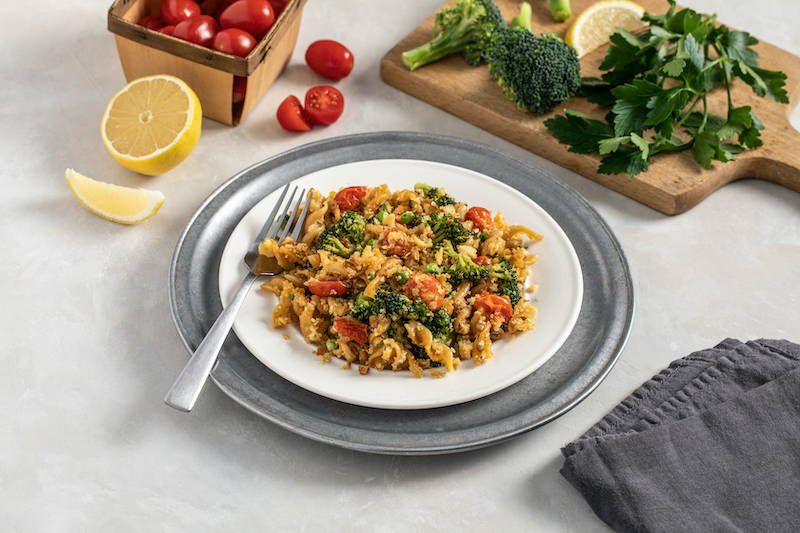 This colourful array of ingredients tossed in a glorious mix of seasonings creates complex, zesty flavours that mean it is gloriously light, but also make it worthy of a dinner. Serve it with some warm, crusty bread on the side.
Why is this recipe suitable for batch cooking?
Perfect for freezing or storing in the fridge, this is a meal high in protein, fibre and vitamin B12, ensuring you can plan a healthy dinner when you need it and get a helping of nutritional goodness with every forkful.
How can I store this meal?
A classic one-pot meal that you can store in the fridge in a big bowl, covered by a plate and scoop out whatever you need, whenever you want it.
How long can this meal last in the fridge?
All the lovely ingredients in this recipe will have plenty of bite left in them after up to four days in the fridge.


Sweet treats - BATCH COOKING RECIPES
No-bake Vegan Pumpkin Tarts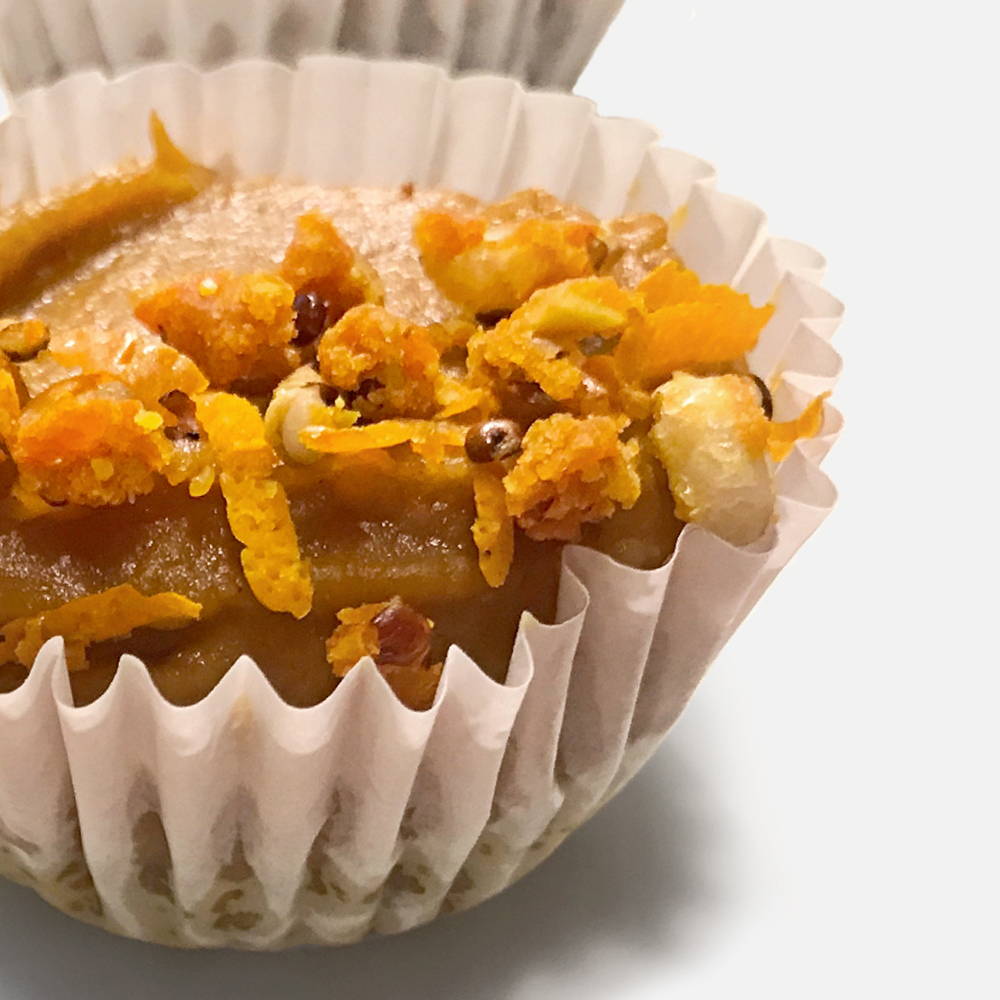 Capturing the perfect blend of sweet dates and savoury carrots, these simple-to-make tarts will be a winner every time. Brimming with autumnal colours they really are something worth going on an invigorating walk for.
Why is this recipe suitable for batch cooking?
A little goes a long way here: the recipe makes 16 tarts from a very modest amount of ingredients, so you'll have them on hand for those treat-based emergencies. Batch cooking at its best.
How can I store this meal?
Simply pop them in an airtight container and you're good to go.
How long can this meal last in the fridge?
So long as you keep them cool these tartlets can simply sit on the side. But either in or out of the fridge, they'll be good for a week.
We hope these recipes will be perfect partners for your new meal-planning routine. Once you find your batch cooking rhythm, preparing ahead saves you time and money. And, to help you batch cook in an eco-friendly way, we have some great hints and hacks for plastic-free storage solutions.
If you try any of the recipes above, share them on Instagram and tag @zenb_uk– we'd love to see your creations! And you can explore more of our range of delicious recipes – including those crafted by top chefs and influencers – here.
---