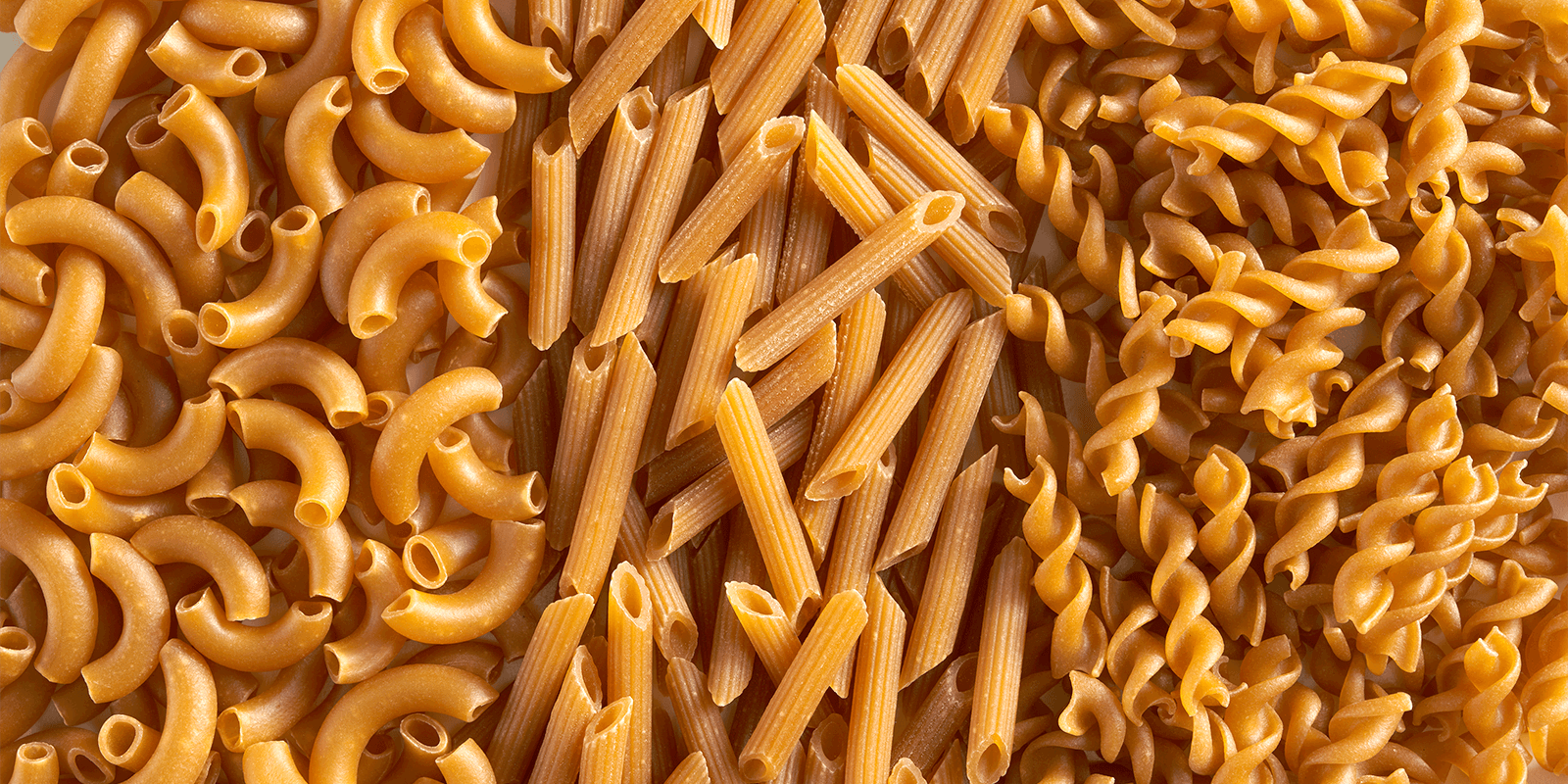 No matter the shape or size, it's no secret that all kinds of pasta taste delicious. However, there are a few tricks to make your dishes pop with texture and taste.
Pairing the right sauce with the right pasta shape can heighten the flavour and deliciousness of both the pasta AND the sauce! But with so many different pasta types — from flat noodles to intricate twists to delicate shells — how do you know which shape goes with which sauce?
We've brought in the experts and teamed up with our friend and celebrity chef Gizzi Erskine to help us explain how to really level up your cooking!
"The shape of the pasta acts as a vessel for different sauces… Any pasta with large holes or ridges is great for a meat sauce or green sauces. Long pasta suits everything, but wide pastas like pappardelle work best with a meat ragu."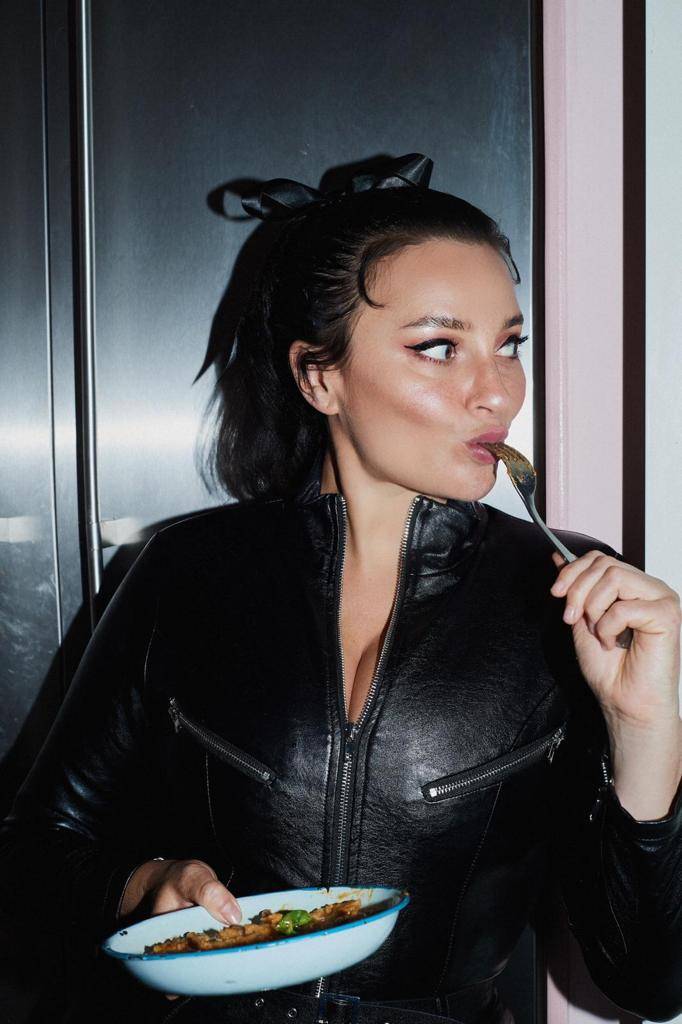 Hey Gizzi, I guess a great place for us to start is at the beginning, is there any interesting history you know of behind certain shape/sauce pairings?
GIZZI: "It's such a huge subject I wouldn't know where to start. What I do know is that there are lots of opinions and lots of passion!
A surprising one is that bolognese should be made with tagliatelle and not spaghetti. Trust me. Every time I post the dish incorrectly, I get reminded by passionate Italians in my DMs. I don't mind, it's important that dishes maintain their heritage, but we also must remember that they will evolve – and I just want to eat what's delicious.
My N'duja Cacio Pepe is completely 'inauthentic', but the Pasta Agile scoops up the sauce in the most delicious way. The pasta cooks in minutes and is high in protein, fibre, micronutrients, is gluten free and tastes fantastic. It's a win-win."
Can you remember the first pasta dish you created as a professional?
GIZZI: "I made a dish with Angela Hartnett and her husband Neil Borthwick which was an N'duja Vongole with black squid ink spaghetti."
Are there any particular pasta dishes that have sentimental value to you? Why is that?
GIZZI: "Always bolognese, but not the way I make it – the way almost every family in the UK makes it. It's my mum's recipe. It's not as tricky as mine but more authentic and much richer – and delicious! Sometimes simplicity is all the cosy you need."
TWISTS AND TURNS - FUSILLI
Twisted pasta shapes such as rotini and fusilli work wonderfully with heavier, more textured sauces, like pesto, bolognese, or those with ground meat or finely chopped vegetables. Because these kinds of pasta's small spaces trap the texture of the sauce, you'll get the perfect bite filled with delicious bursts of flavour.
GIZZI: "When I was developing sauces to go with the ZENB Pasta range, I looked at the classics and what would work for the specific shapes. Fusilli, I paired with an egg emulsion sauce (think carbonara, but with sausages and courgettes). Fusilli and sausage sauce is a classic."
Try it yourself: Gizzi's Fennel Sausage, Courgette, Pea, and Wild Garlic Fusilli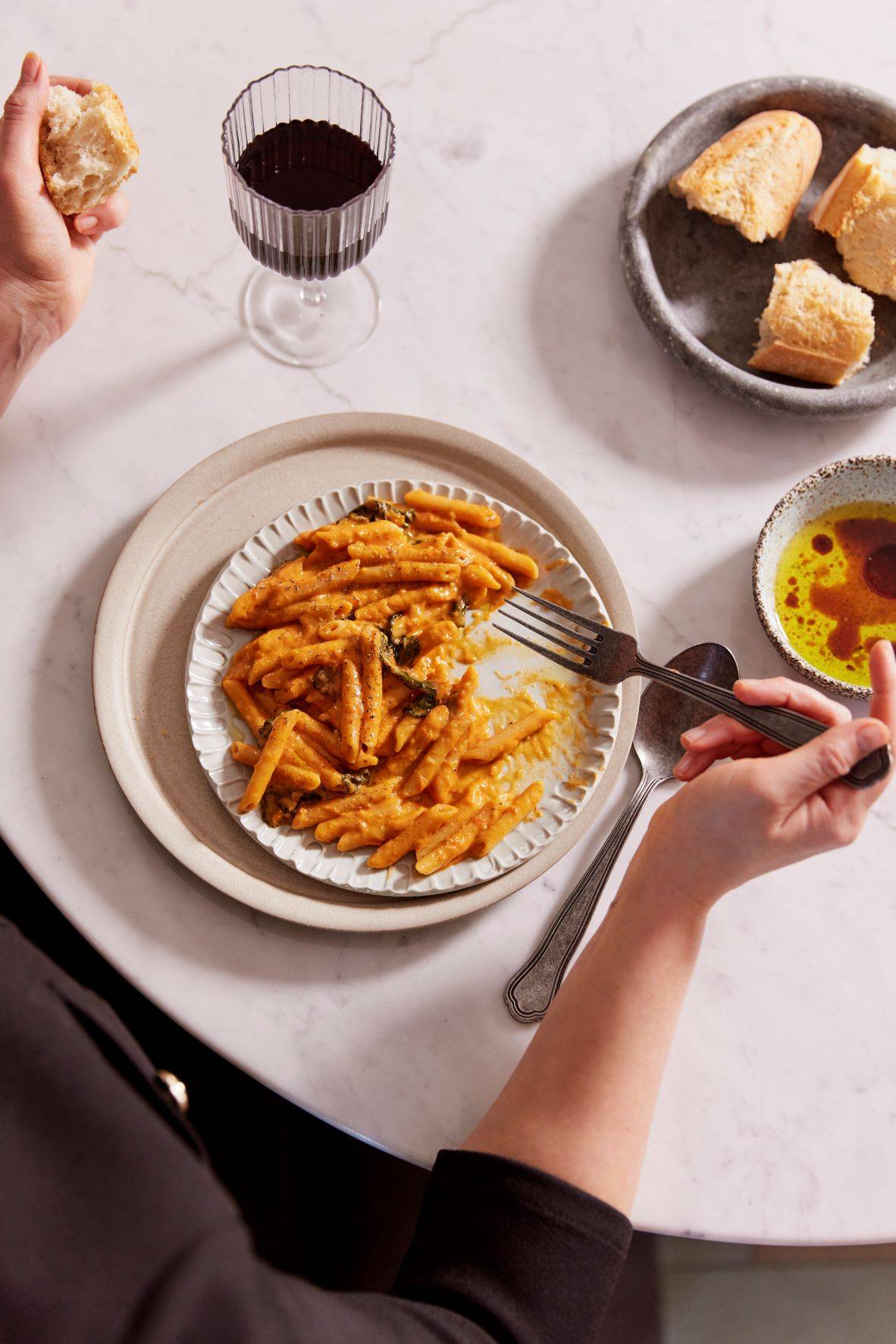 Textured tubular pasta, such as penne rigate (ridged penne) and rigatoni, matches perfectly with super smooth, finely blended sauces. The ridges cling to the liquid much better than other shapes and can be utilized best with vodka, alfredo, or marinara sauce.
Don't be afraid to throw them in a pasta casserole, as well! The ridges stand up well to baking and can provide a scrumptious starch to any baked dish.
GIZZI: "For the Penne, I re-created the dish made famous by Audrey Hepburn – "Penne a la Vodka", because of how the vodka pairs with the creamy tomato sauce and clings to the inside of the penne when you bite into it. If the pasta has been properly coated, the hot sauce bursts out and gives a great big bang of flavour."
Try classics like ZENB Penne Pasta Alla Vodka or our Spinach & Basil Penne.
'MAc' THE MOST OF MACARONI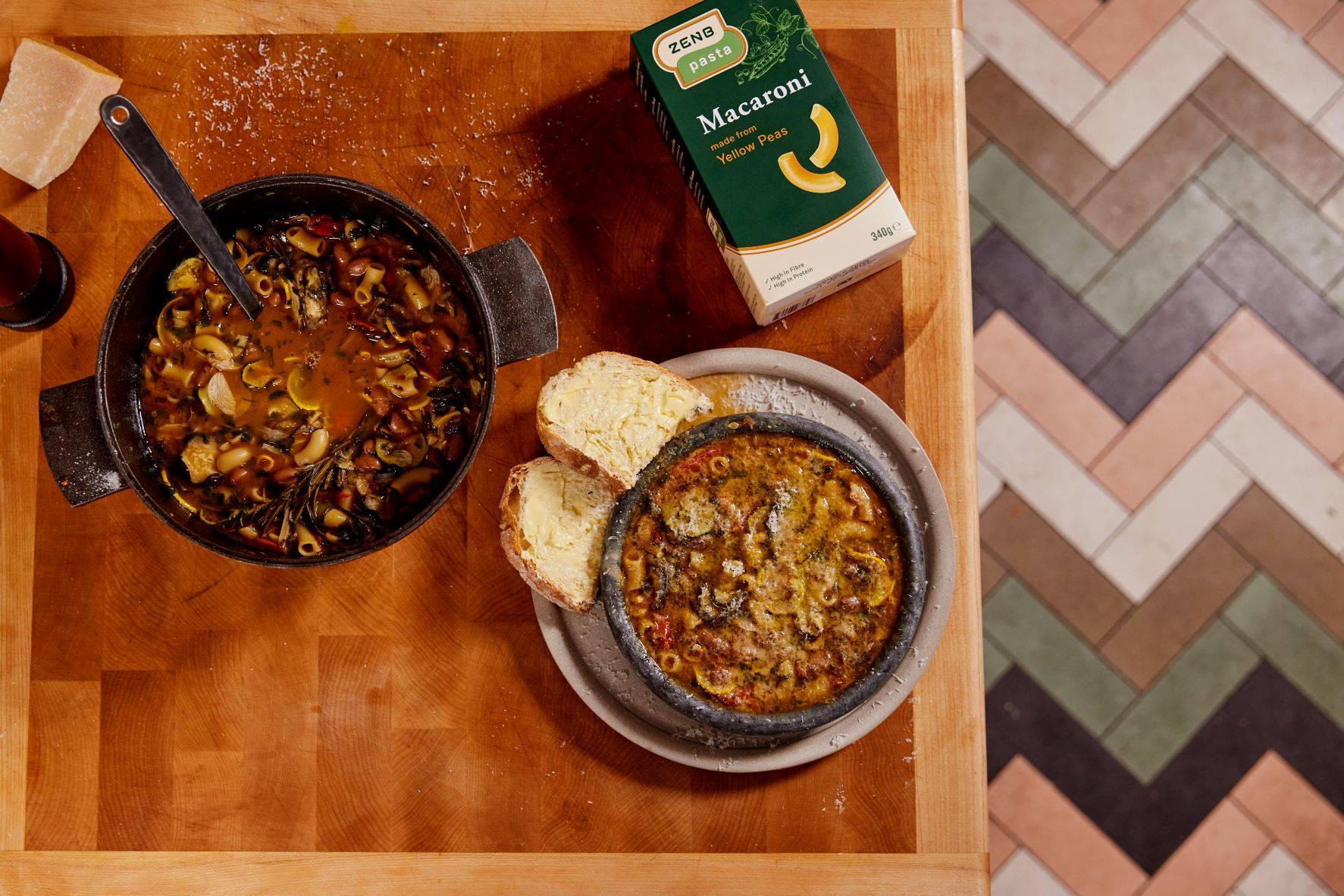 Smaller pasta such as orzo or elbows goes best in soups, stews, or any recipe with extra sauce or liquid. Unlike longer pastas which break down quickly in surplus liquid and heat, smaller pasta shapes keep their shape.
Smaller shapes also soak up the broth as they cook, and impart starch back into the cooking liquid while they do, which gives the dish a thicker consistency and more delectable bites. Whether these kinds of pasta are in a traditional Italian soup or an extra gooey macaroni and cheese, small pasta shapes can have a big impact.
GIZZI: "I put the Macaroni into a minestrone-style soup made with tomatoes, aubergine and courgettes."
Why not put the theory to the test with Gizzi's Minestrone Soup Recipe.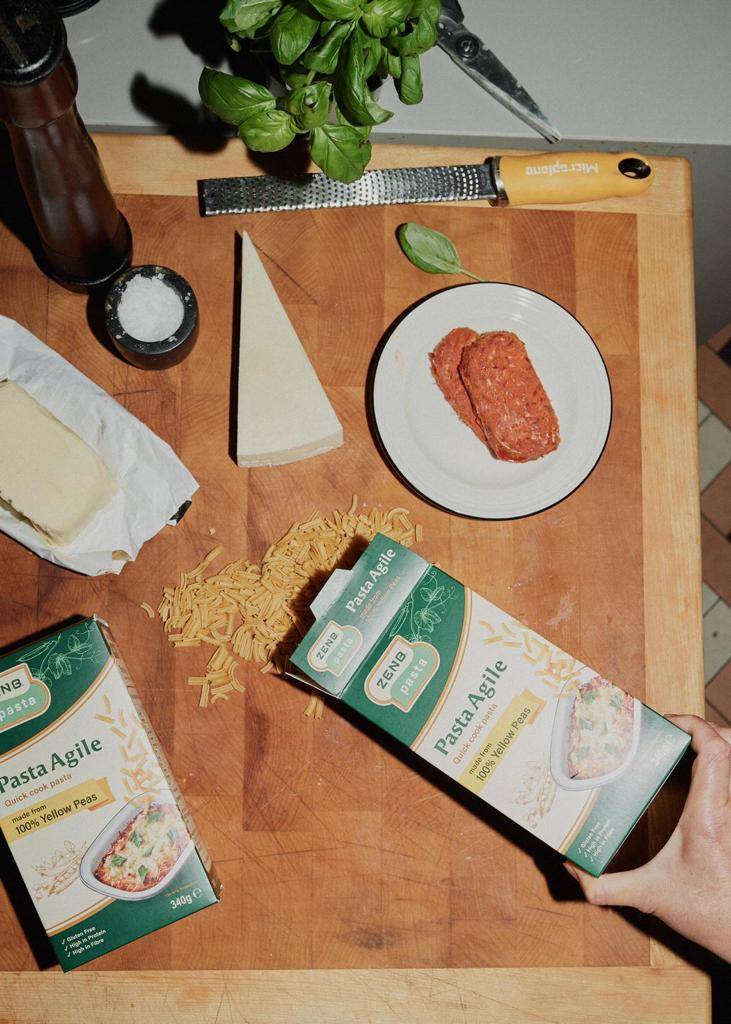 Our completely unique shape, Pasta Agile is happily giving the other pasta shapes a run for their money. Developed with precision-cut surfaces to retain a tasty, al dente texture in under three minutes of preparation. The thin, curved walls encourage flavour absorption and allow sauces to grip every nook and cranny, so basically you can pair with anything!

GIZZI: "Honestly, Pasta Agile works with everything. For lunch today I mixed the pasta through some left-over cauliflower cheese for a cauli mac and cheese, so quick and easy. My friend Ian at HASTE KITCHEN does a super sausage bake on the website. I will definitely be trying the Spanish dish "fideuá" with Pasta Agile, which is like a paella but made with vermicelli and shellfish stock and loads of seafood!"
To celebrate the launch of our Pasta Agile, Gizzi made us a special Agile Nduja Cacio E Pepe recipe, that goes from stove to table in just 5 minutes!
GIZZI: "Cacio Pepe hit the UK as one of the trendiest dishes about 4-5 years ago when Padella opened in Borough Market. It is one of the most Instagram-able dishes of the past few years. The owner and the exec chef make it with pici, which is hand rolled thick pasta noodles. What makes the dish special is it's made from the starchy pasta water, lots of black pepper and cheese - and that's it. It's a thrifty dish, but with the technique of emulsification, it turns into a silky and viscous sauce. The addition of n'duja and butter gives it a delicious fatty and spicy indulgence."
Now we have covered the basics, are there any quirkier pairings of pasta and sauce we wouldn't normally think to try?
GIZZI: "I made my favourite sauce recipe in my best-selling book Slow. It's a white bolognese with pork and veal mince but cooked out with sage, milk, and cream. It's so bloody delicious. I love making ragus.
Even traditional bolognese I really make in a particularly "extra" way. It has pork and rose veal mince, ground smoked pancetta, chicken livers, sofrito (which is cooked down onions, celery, carrot, and leeks) and bouquet garni. Then you cook it all down in milk to temper any bitterness in the meat or liver flavour, adding white (not red) wine and tomatoes. It takes six hours to make but is the best way to spend that time immersed in cooking."
If you wanted to learn more about pasta shapes and the perfect sauce pairings, what would you recommend?
GIZZI: "The A-Z of Pasta by Rachel Roddy is super helpful and informative – and it has delicious recipes to boot."
Of course, if you think a pasta and sauce pairing is delicious, then it is! Whatever different pasta types you have on hand will certainly carry any sauce. However, if you want to step up your ranking as a home cook and create restaurant-quality combos that impress and delight the senses, then: Yes, pasta shape really does matter.
For recipes to inspire, browse ZENB Pasta recipes to find the shape for you!
Come follow us @zenb_UK on Facebook and Instagram to stay in the know on the latest tips, tricks, and fun facts you need to live a more veggie-filled, balanced life.
---