Climbing as a form of meditation: a chat with Kim Hartwell
In case you missed it, episode three of our podcast featured the intrepid fitness guru Kim Hartwell. Our host Jasmine Hemsley talked to Kim about the restorative nature of climbing and the outdoors in what was a truly inspiring episode, so make sure you check it out.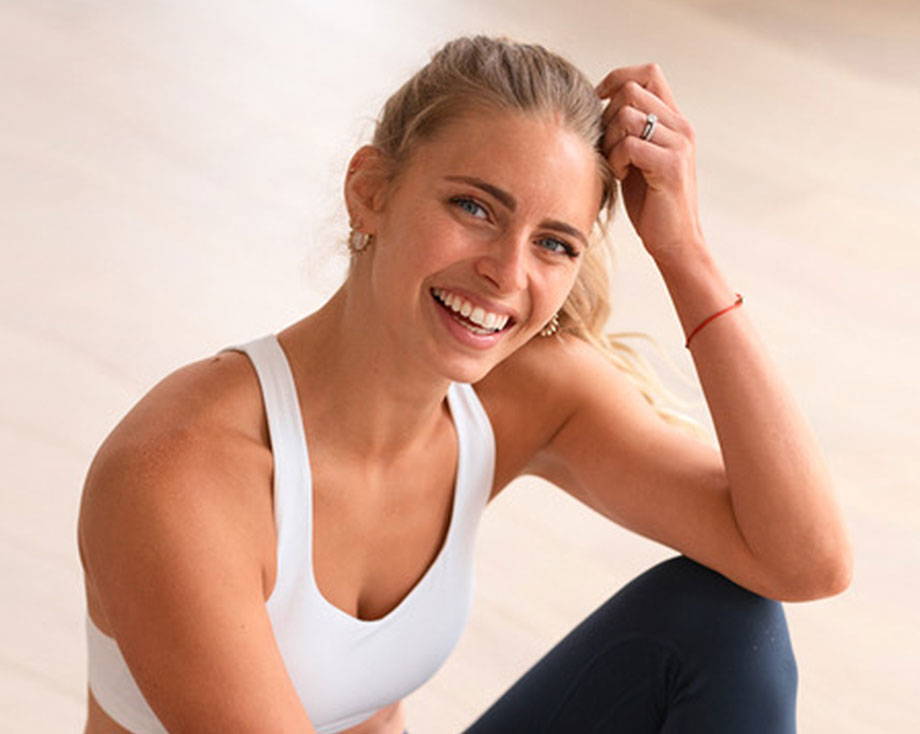 Kim was such an energising guest and her chat with Jasmine left us with lots more questions. Luckily, she was happy to answer them for us…
For anyone who may not know you, who is Kim Hartwell?
I'm a personal trainer, movement coach, yoga teacher and avid rock climber. I'm in love with life, nature and all things adventure. I have a passion for teaching classes that fuse biomechanics and yoga flow, so that you can feel stronger to do what you love for longer.
I founded Rock & Soul Adventure retreats (and online courses) to combine my love of rock climbing, yoga and general outdoors-iness. I take great passion in empowering people to push past their comfort zones, using nature and adventure to become the best version of themselves.
For you, what is the best thing about climbing?
Rock climbing is such an incredible way to experience the outdoors. Whether you're up a mountain or on the side of a cliff face by the ocean, no adventure is ever the same. It's also the perfect opportunity to become present in the moment. For me, rock climbing allows me to tap into my "flow state" where I find peace and presence, not thinking about anything else but being on the rock at that very moment. Rock climbing is hugely empowering, I love to see the pure elation of climbers on our Rock and Soul Adventure retreats when they reach the top of a cliff they never thought they'd be able to. A full experience – body, mind and soul.
Do you think exploration has meditative qualities?
Absolutely. Inherent in exploration is nature. Nature is our biggest healer. Even five minutes out in the elements can have a huge impact on our mindset. There's something truly wonderful about being present in nature: watching, noticing, breathing it all in.
Climbing mountains seems impossible to many. How do you advise people who want to get into climbing – and how to keep at it?
I would suggest if you have an indoor wall near you, go and explore it. Find a friend who's been before or just go alone – it's relatively straightforward to turn up, rent some shoes and a chalk bag.
The climbing community is so welcoming too, everyone loves to help so it won't be long until you're finding your way. If you want to go on the ropes or go outside there's so many instructors out there who will take care of all of the more intricate things, so you can concentrate on enjoying the climb!
To keep at it I would suggest trying to go to the wall once or twice a week. Or where you can't get to a wall, there's lots of training you can do to help – this is why I launched Yoga for Climbers (an eight-week online training course)!
What do you think is the biggest misconception about exercising?
That it equates to hours on end at the gym. I think more important than logging hours at the gym is finding something that you enjoy doing. The more you enjoy doing it, the more likely you'll be to keep it up.
We also tend to underestimate "movement" throughout our day, and view designated "workouts" as the only true exercise. What we do the other 99% of our time (eg sitting at a desk/on the sofa) will be much more impactful to our overall health. That's why I advise people to get as much movement into their days as possible. Even if that's just changing positions throughout the day from sitting to squatting, standing and stretching, or going for short walks.
If you only had 10 minutes a day for self-care, what would you do and why?
Go for a walk in nature: perfect for clearing my mind and reconnecting to the present moment.
Now we're in another lockdown, how are you keeping yourself occupied?
Lots of online teaching and creating content for people to keep moving happily at home. It's also allowed me to bringing in more self-care into my day to day. My mornings have become more sacred as I'm teaching slightly later (not having to go to the studios to teach). The mornings If I have additional time to spend, I try to meditate and journal which I find really helpful for keeping focused..
How important is your diet as part of your lifestyle?
I think there's a balance to be struck. I like to eat pretty clean (unprocessed, highly nutritious) food 80% of the time. Then 20% I let myself eat little less balanced. This allows me to have a healthy relationship with food while also fuelling my training and recovery.
We're veggie fanatics at ZENB. What's your favourite vegetable and why?
Tricky, I'm a veggie so I eat a ton of them! I love sweet potato, cauliflower, aubergine or mushrooms!
And finally, what piece of advice would you give to those finding lockdown tough?
Know that you are already enough as you are. You don't have to "achieve" or "transform" yourself through this period. I personally have found myself striving to "prove" myself, particularly with the pressure to be online. The days that I take a step back, that I take time for self-care and take time to get into nature I find perspective on what's most important.
Tomorrow is never promised, so we have to find happiness in our day-to-day. For me that's moving in nature and spending time with who I love. That for me this is where I realise my priorities. This allows other parts to fall into place a little easier. Life's too short to not do what you love.
Would you like to know more?
To discover more of our podcasts
To discover our Trial Packs
---