Bites Are Back: A Q&A with our ZENB R&D Lead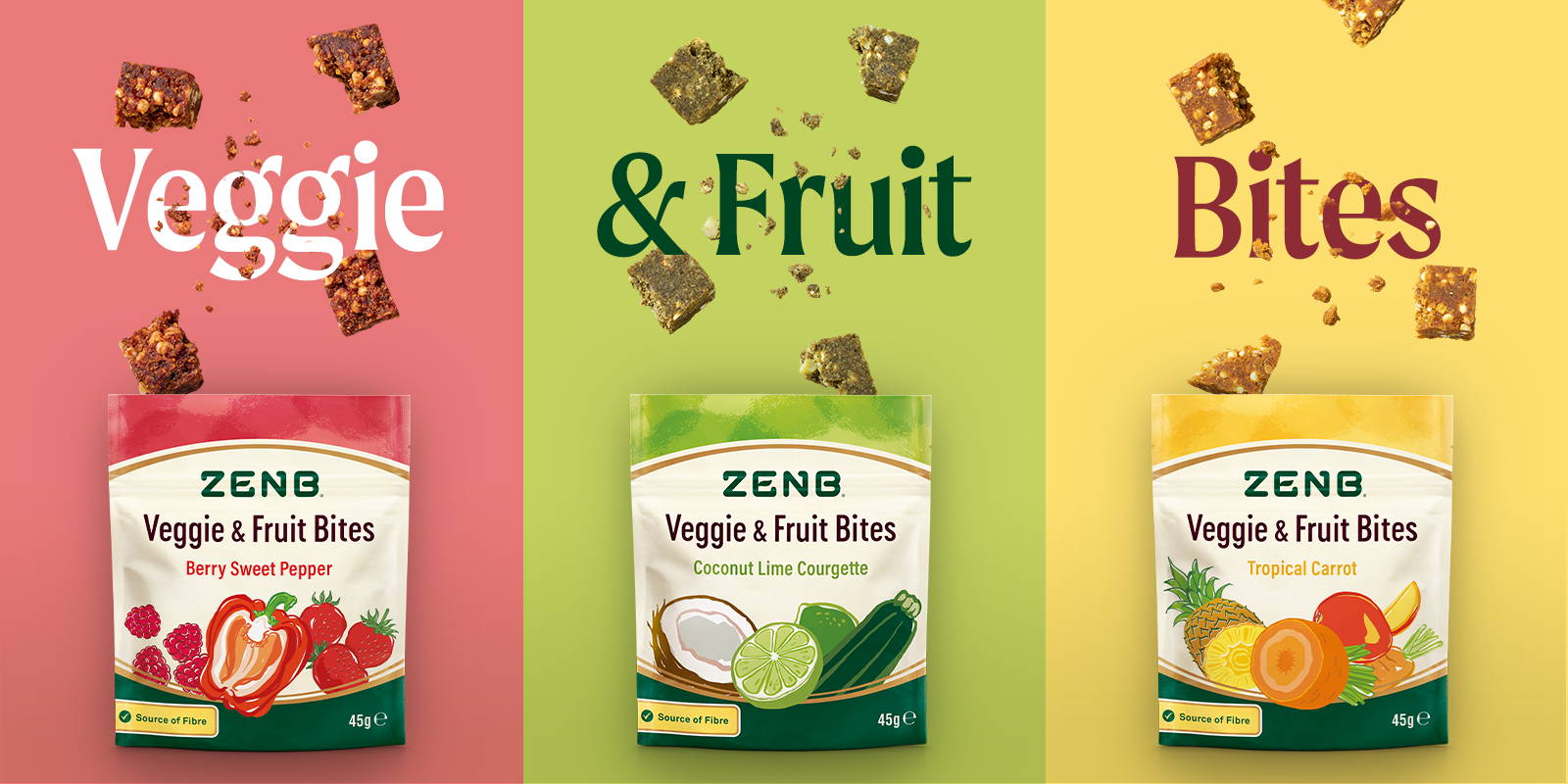 For anyone who's been paying close attention to developments here at Team ZENB, you may notice that our new Veggie Bites aren't exactly new...
These new Veggie & Fruit Bites are an evolution of our original ZENB Veggie Bites which launched back in 2020.
Based on customer feedback we have reworked them to give an elevated flavour profile whilst also delivering a high in fibre hit that comes from our proprietary Whole Vegetable production technique where using as much of the vegetable as possible allows us to get the most out of each hero vegetable, helping to reduce food waste.
Join us whilst we find out more about the development of our new Veggie & Fruit Bites with our UK Product R&D Lead Sophie.
Hey Sophie, tell us a bit about yourself and your job at ZENB
Hi! I'm Sophie and I joined ZENB just before Christmas. My job as R&D lead here is to make sure all our recipes taste delicious and the quality is great time after time!
I love working in the food industry and am a foodie myself - I love cooking from scratch at home and making pasta bakes with ZENB Pasta.

What are ZENB Bites?
ZENB Bites are a tasty snack we've created that are focussed around using as much fruit, vegetable and nut content as possible. With our main ingredients in the Bites we aim to use as much of the edible vegetables as possible (so including things like skin and seeds). This is unique to ZENB because using as much of the whole veg is unusual in the UK, and often these commonly discarded parts have as much, if not more, nutrition that the more commonly used parts of the veg. We use as little syrup and cocoa butter as possible, just enough to ensure all the ingredients combine together beautifully and give a soft texture, but we also want to avoid adding refined sugars wherever we can.

How did ZENB Bites change?
For those of you that don't know, ZENB did have a previous version of Bites, however we listened to our consumer feedback and also agreed that, yeah…. There was room for improvement So we've worked hard on the recipes to make them more indulgent and balanced with flavours, but still maintaining the high fruit and veg powder content, plus our improved version now boasts a high in fibre claim too!

What's the price of a pack of Bites?
We use a high proportion of fruit and vegetables, and less refined sugar sources and these ingredients are typically more pricey than your standard cane sugar, wheat flour or raisins, for example. In addition, the veggies and fruit powders go through a specific and complex dying process that also adds to the cost.. We also don't use any ingredients that come from China because throughout our process we are mindful of both people and the planet, which means some of our ingredients may be sourced from countries that charge a premium.

In short however, they are £3 a pack and come in boxes of 6, 12 & 24.
Each pack is designed for slow consumption so should be grazed on over an afternoon rather than just hoovered up like crisps. :)
You also get 10% off and free delivery on your order when you subscribe!

What are the nutritional benefits of the Bites?
All 6 flavours of our Bites are high in fibre and this is because we use a large amount of fruit and vegetable powders. Fibre is ultra-important to our well-being as it breaks up into two different types that fulfil two important jobs:
The first type is soluble fibre. This type slows digestion and helps regulate sugar levels while digesting. It is found in foods such as oatmeal, nuts, beans, lentils, apples and blueberries.
The second is insoluble fibre. This type speeds along food passing through the intestines. It is found in foods such as wheat, whole wheat bread, whole grain couscous, brown rice, legumes (like yellow peas!), carrots, cucumbers and tomatoes.

Tell us about the flavours
We have created 6 exciting flavours for you to choose from:

Mexican Cocoa Beetroot
Orange Cocoa Beetroot
Coconut Lime Courgette
Tropical Carrot
Cherry Sweet Potato
Berry Sweet Pepper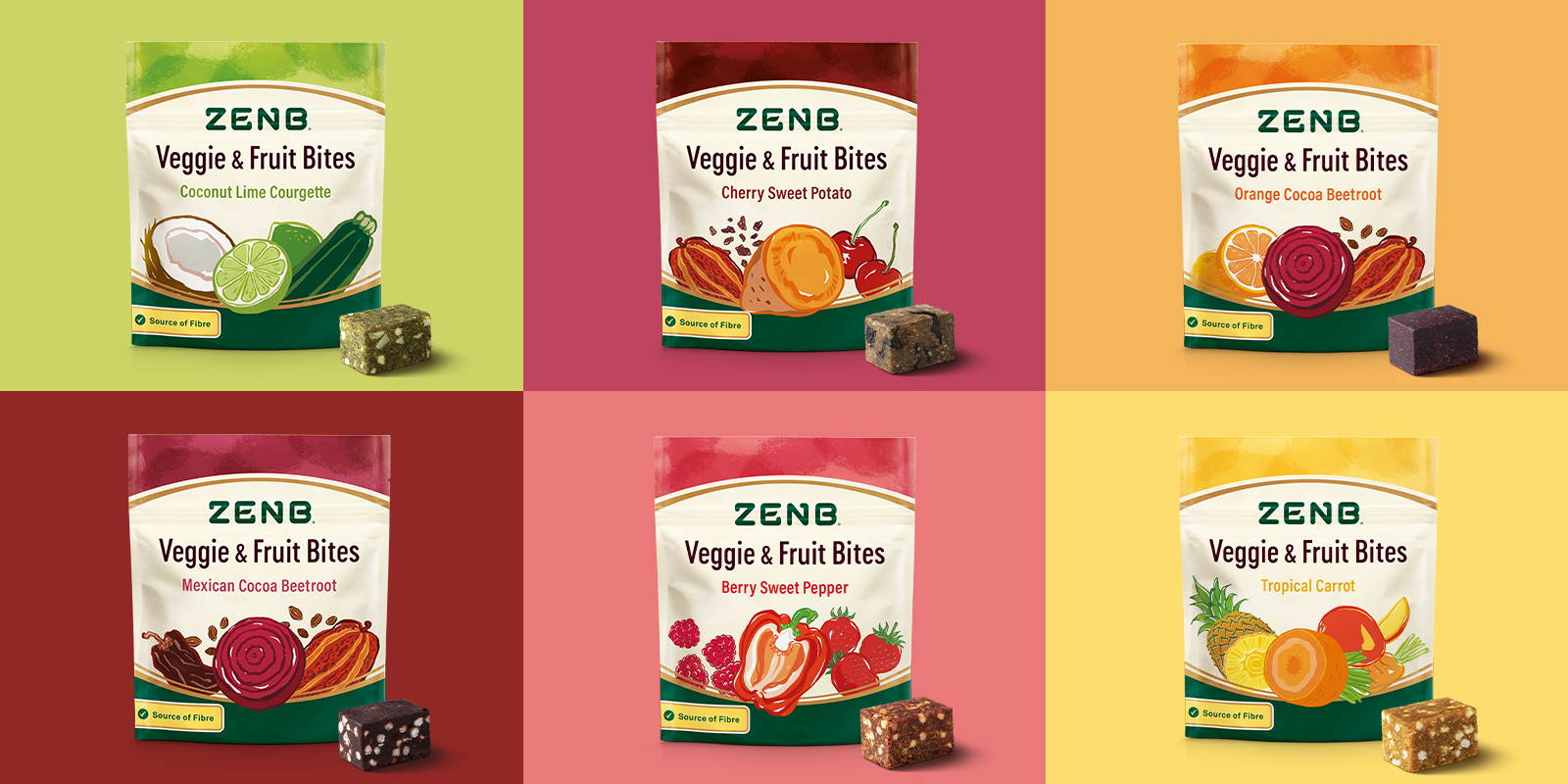 We wanted to have enough variety so you can chop and change snacks throughout the week and they don't get boring.
You might think some of these flavour pairings sound a little unexpected or crazy but these combinations really compliment each other, resulting in rich flavour blends. Each unique ZENB Fruit & Veggie Bites flavour combo features a whole hero veggie, mixed with fruits and spices, to deliver a delicious snack that's chewy with just a little crunch.

What's your favourite flavour and why?
Definitely Orange Cocoa Beetroot - it's like having a chocolate orange treat but I know it's doing me some good at the same time.
What makes Bites unique compared to other snacks in the market?
The high content of fruit and vegetable powders that we use (which make our snack high in fibre!), and less of the dried fruit you'd typically find in cereal bars - we aren't a fan of raisins here!

What upcoming ZENB products are you most excited about (no spoilers)?
The versatility of our pastas that are already on our site - there is so much we can do with them. They represent a really tasty alternative to standard wheat pasta and are gluten free - watch this space!

Lastly: what do you love about your job at ZENB?
Getting to explore new flavours and food trends so that we can bring customers something exciting, and then scale up an idea from a kitchen recipe to gigantic food proportions - that is pretty impressive! And I mustn't forget - working with my lovely colleagues is a joy!

Visit the Bites page to learn everything about our wholly delicious snacks.
See you soon!

Sophie x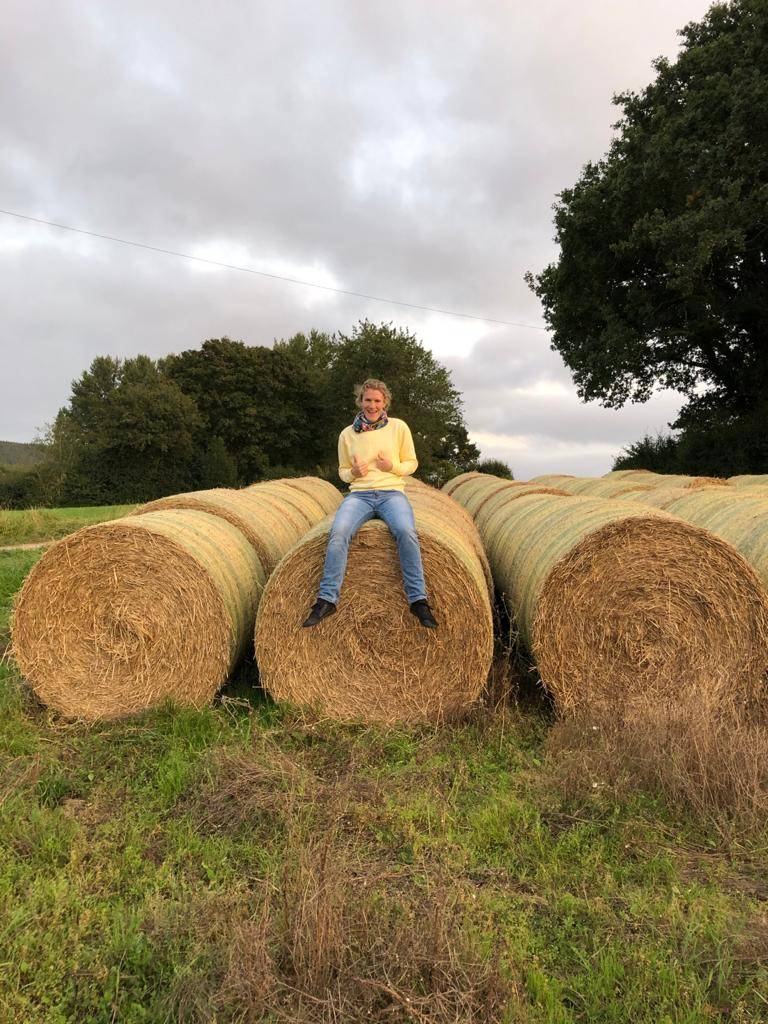 ---